<![if !vml]>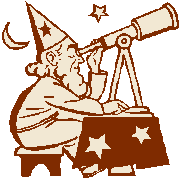 <![endif]>
Alan's Finds
<![if !supportEmptyParas]> <![endif]>
Updated 12/20/10
<![if !supportEmptyParas]> <![endif]>
How is your knowledge of automobile brands? THIS IS NOT EASY!
If you guess right you'll hear the gas accelerate and a green circle around your answer.
If you guess wrong, you'll hear the brakes screech and a green circle will show up around the correct answer.
<![if !supportEmptyParas]> <![endif]>
<![if !supportEmptyParas]> <![endif]>
Mr. Allen Swift (Springfield, MA.) received this 1928 Rolls-Royce Picadilly P1 Roadster from his father, brand new - as a graduation gift in 1928.
He drove it up until his death in 2005 at the age of 102!!!
He was the oldest living owner of a car from new. Just thought you'd like to see it.
He donated it to a Springfield museum after his death. It has 170,000 miles on it, still runs like a Swiss watch, dead silent at any speed and is in perfect cosmetic condition. Just thought you would find this of interest.
<![if !vml]>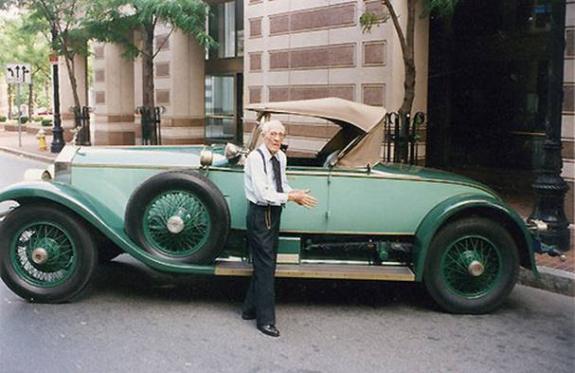 <![endif]>
<![if !supportEmptyParas]> <![endif]>
<![if !supportEmptyParas]> <![endif]>
Clip From 1981 Johnny Carson Show – No one in the world could pull this off like Jimmy Stewart!  Watch as he reads the poem, A Dog Named Beau.
<![if !supportEmptyParas]> <![endif]>
<![if !supportEmptyParas]> <![endif]>
In the spirit of Halloween - Ray Villafane – Pumpkin Carver Extraordinaire
<![if !supportEmptyParas]> <![endif]>
<![if !supportEmptyParas]> <![endif]>
A bit of information that you might like to know about. We have friends here in our community and one of their sons is an entomologist (insect expert), and has been telling them that there is an epidemic of bed bugs now occurring in America. Recently I have heard on the news that several stores in NYC have had to close due to bed bug problems, as well as a complete mall in New Jersey .

He says that since much of our clothing, sheets, towels, etc. now comes from companies outside of America, (sad but true), even the most expensive stores sell foreign clothing from China, Indonesia, etc. The bed bugs are coming in on the clothing as these countries do not consider them a problem. He recommends that if you buy any new clothing, even underwear and socks, sheets, towels, etc. that you bring them into the house and put them in your clothes dryer for at least 20 minutes. The heat will kill them and their eggs. DO NOT PURCHASE CLOTHES AND HANG THEM IN THE CLOSET FIRST. It does not matter what the price range is of the clothing, or if the outfit comes from the most expensive store known in the U.S. They still get shipments from these countries and the bugs can come in a box of scarves or anything else for that matter. That is the reason so many stores, many of them clothing stores, have had to shut down in NYC and other places. All it takes is to bring one item into the house that has bugs or eggs and you will have a terrible time getting rid of them. He travels all over the country as an advisor to many of these stores, as prevention and after they have the problem.
<![if !supportEmptyParas]> <![endif]>
<![if !supportEmptyParas]> <![endif]>
WOW! What a Really Messy Scene!

Brace yourself before looking at the attached image. A pilot at low level has no control over his aircraft. It narrowly misses a crowd gathered for the air show and slams into four buildings. One can only imagine the horror of the occupants inside those buildings.
<![if !supportEmptyParas]> <![endif]>
<![if !vml]>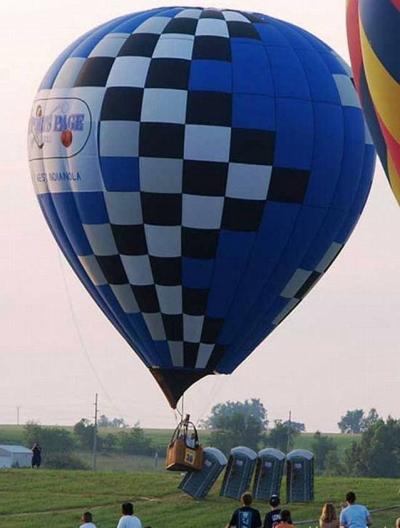 <![endif]>
<![if !supportEmptyParas]> <![endif]>
<![if !supportEmptyParas]> <![endif]>
And while we're on this subject:
<![if !supportEmptyParas]> <![endif]>
After more than 40 years the Viet Nam Veterans of the United States of America raised a phenomenal amount of money to memorialize another one of Hollywood's loyal American citizens who went out of her way to aid and abet the enemy and congratulate them on their treatment of US. POW's.
<![if !supportEmptyParas]> <![endif]>
This memorial says it all!
<![if !supportEmptyParas]> <![endif]>
<![if !vml]>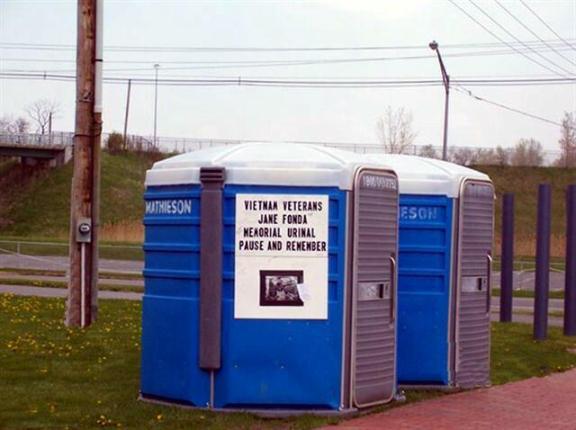 <![endif]>
<![if !supportEmptyParas]> <![endif]>
I get teary eyed when I see this.
<![if !supportEmptyParas]> <![endif]>
<![if !supportEmptyParas]> <![endif]>
Education Is More Than Knowledge
<![if !supportEmptyParas]> <![endif]>
DID YOU KNOW:
<![if !supportEmptyParas]> <![endif]>
Elephants are the only animals that cannot jump.
<![if !supportEmptyParas]> <![endif]>
The body's strongest muscle is our tongue.
<![if !supportEmptyParas]> <![endif]>
Statistically, people are more afraid of spiders than they are of dying.
<![if !supportEmptyParas]> <![endif]>
All polar bears are left handed.
<![if !supportEmptyParas]> <![endif]>
Crocodiles cannot stick out their tongue.
<![if !supportEmptyParas]> <![endif]>
Butterflies taste with their feet.
<![if !supportEmptyParas]> <![endif]>
A cockroach can live 9 days without its head.  It only dies because it cannot eat.
<![if !supportEmptyParas]> <![endif]>
A duck's quack has no echo, and nobody knows why.
<![if !supportEmptyParas]> <![endif]>
Each king on playing cards represents a king in real history.
            Spades:  King David
            Clubs:  Alexander the Great
            Hearts:  Charlemagne
            Diamonds:  Julius Caesar
<![if !supportEmptyParas]> <![endif]>
It is impossible to sneeze with your eyes open.
<![if !supportEmptyParas]> <![endif]>
Multiplying 111,111,111 x 111,111,111 = 12,345,678,987,654,321.
<![if !supportEmptyParas]> <![endif]>
A statue in a park with a soldier on a horse with
            Its 2 feet in the air means the soldier died in combat –
            Only 1 foot in the air means the soldier died of injuries from combat –
            All feet on the ground means the soldier died of natural causes.
<![if !supportEmptyParas]> <![endif]>
Mosquitoes have teeth.
<![if !supportEmptyParas]> <![endif]>
Thomas Edison was afraid of the dark.
<![if !supportEmptyParas]> <![endif]>
The word "cemetery" comes from the Greek, koimetiron, which means dormitory.
<![if !supportEmptyParas]> <![endif]>
When the English landed in Australia, they noticed a strange animal that jumped extremely high and far.  They asked the aboriginal people using body language and signs trying to ask them about this animal.  They responded with "Kan Ghu Ru."  The English then adopted the word "kangaroo."  What the aboriginal people were trying to say was, "we don't understand you." 
<![if !supportEmptyParas]> <![endif]>
During historic civil wars, when troops returned without any casualties, a writing was put up so all could see which read, "0 Killed."
From here we get the expression, "O.K." which means all is good.
<![if !supportEmptyParas]> <![endif]>
Starfish have no brains.
<![if !supportEmptyParas]> <![endif]>
<![if !supportEmptyParas]> <![endif]>
This is a great story!
Something really cute happened in downtown Green Bay this week.
Michael R. is an accounting clerk at the Bank and works there in a second story office. Several weeks ago, he watched a mother duck choose the concrete awning outside his window as the unlikely place to build a nest above the sidewalk. The mallard laid ten eggs in a nest in the corner of the planter that is perched over 10 feet in the air. She dutifully kept the eggs warm for weeks, and Monday afternoon all of her ten ducklings hatched.
<![if !supportEmptyParas]> <![endif]>
Michael worried all night how the momma duck was going to get those babies safely off their perch in a busy, downtown, urban environment to take to water, which typically happens in the first 48 hours of a duck hatching.

Tuesday morning, Michael watched the mother duck encourage her babies to the edge of the perch with the intent to show them how to jump off. Office work came to a standstill as everyone gathered to watch.
<![if !supportEmptyParas]> <![endif]>
The mother flew down below and started quacking to her babies above. In disbelief Michael watched as the first fuzzy newborn trustingly toddled to the edge and astonishingly leapt into thin air, crashing onto the cement below. Michael couldn't stand to watch this risky effort nine more times! He dashed out of his office and ran down the stairs to the sidewalk where the first obedient duckling, near its mother, was resting in a stupor after the near-fatal fall. Michael stood out of sight under the awning-planter, ready to help.
<![if !supportEmptyParas]> <![endif]>
As the second one took the plunge, Michael jumped forward and caught it with his bare hands before it hit the concrete. Safe and sound, he set it down it by its momma and the other stunned sibling, still recovering from that painful leap. (The momma must have sensed that Michael was trying to help her babies.)
<![if !supportEmptyParas]> <![endif]>
One by one the babies continued to jump. Each time Michael hid under the awning just to reach out in the nick of time as the duckling made its free fall. At the scene the busy downtown sidewalk traffic came to a standstill. Time after time, Michael was able to catch the remaining eight and set them by their approving mother.
<![if !supportEmptyParas]> <![endif]>
<![if !vml]>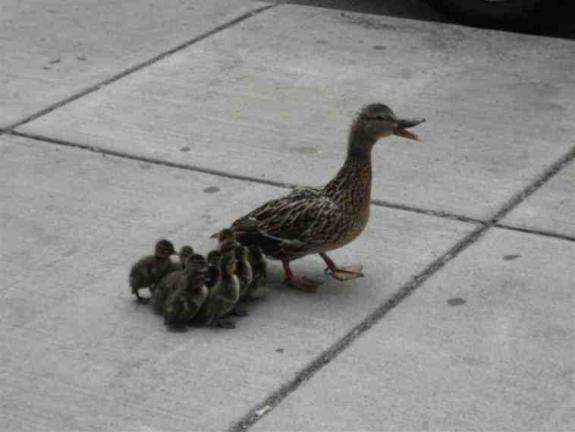 <![endif]>
<![if !supportEmptyParas]> <![endif]>
At this point Michael realized the duck family had only made part of its dangerous journey. They had two full blocks to walk across traffic, crosswalks, curbs and past pedestrians to get to the closest open water, the River. The on looking office secretaries and several Green Bay police officers joined in. An empty copy-paper box was brought to
collect the babies.

They carefully corralled them, with the mother's approval, and loaded them in the container. Michael held the box low enough for the mom to see her brood. He then slowly navigated through the downtown streets toward the Fox River. The mother waddled behind and kept her babies in sight, all the way.
<![if !supportEmptyParas]> <![endif]>
<![if !vml]>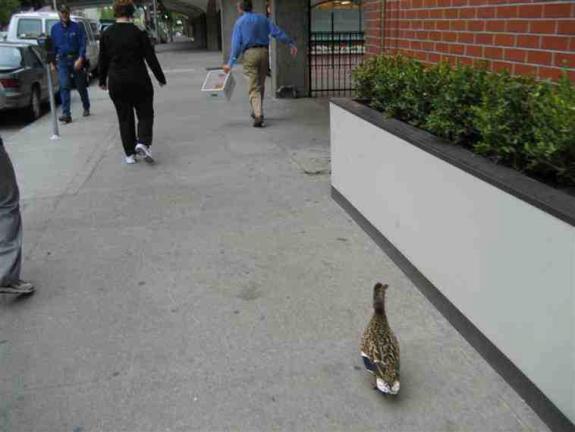 <![endif]>
<![if !supportEmptyParas]> <![endif]>
As they reached the river, the mother took over and passed him, jumping in the river and quacking loudly.

At the water's edge, Michael tipped the box and helped shepherd the babies toward the water and to the waiting mother after their adventurous ride.
<![if !supportEmptyParas]> <![endif]>
All ten darling ducklings safely made it into the water and paddled up snugly to momma. Michael said the mom swam in circles, looking
back toward the beaming bank bookkeeper, and proudly quacking.
<![if !supportEmptyParas]> <![endif]>
At last, all present and accounted for: "We're all together again. We're here! We're here!"
<![if !supportEmptyParas]> <![endif]>
And here's a family portrait before they head outward to further adventures.. .
<![if !supportEmptyParas]> <![endif]>
<![if !vml]>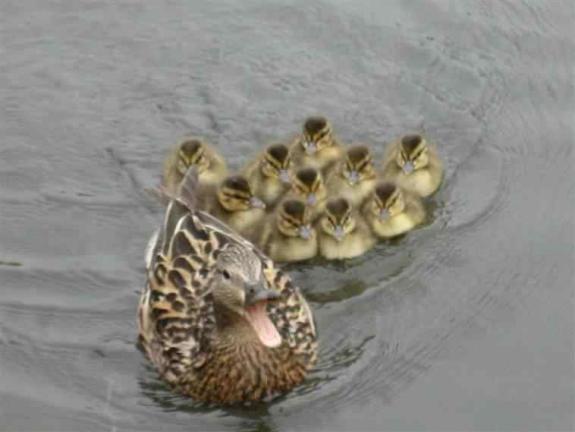 <![endif]>
<![if !supportEmptyParas]> <![endif]>
Like all of us in the big times of our life, they never could have made it alone without lots of helping hands.
<![if !supportLineBreakNewLine]>
<![endif]>
Maybe you will want to share this story with others. It's too good to lose!
<![if !supportEmptyParas]> <![endif]>
<![if !supportEmptyParas]> <![endif]>
A new, updated, Dr. Seuss book:
<![if !supportEmptyParas]> <![endif]>
I do not like this Uncle Sam,
I do not like his health care scam.
I do not like these dirty crooks,
or how they lie and cook the books.
I do not like when Congress steals,
I do not like their secret deals.
I do not like this speaker, Nan ,
I do not like this 'YES WE CAN.'
I do not like this spending spree,
I'm smart, I know that nothing's free.
I do not like your smug replies,
when I complain about your lies.
I do not like this kind of hope.
I do not like it, nope, nope, nope!
<![if !supportEmptyParas]> <![endif]>
<![if !supportEmptyParas]> <![endif]>
Picture of the year:
<![if !supportEmptyParas]> <![endif]>
<![if !vml]>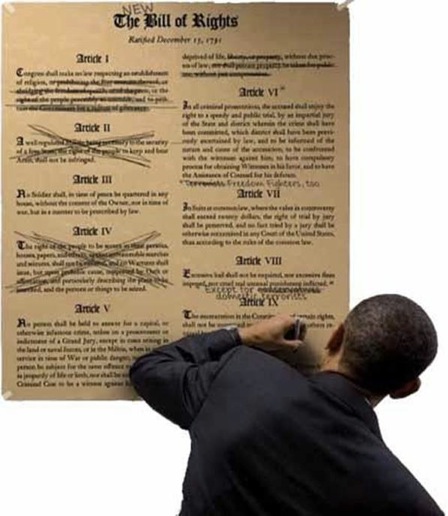 <![endif]>
<![if !supportEmptyParas]> <![endif]>
<![if !supportEmptyParas]> <![endif]>
Explore the Fascinating Art Of John Pugh – this one deserves the time, and is only the tip of the iceberg.
<![if !supportEmptyParas]> <![endif]>
<![if !supportEmptyParas]> <![endif]>
Take a Ride Back In Time – to where Detroit was in its Full Glory!
<![if !supportEmptyParas]> <![endif]>
<![if !supportEmptyParas]> <![endif]>
This is one account of an amazing piece of history.  Learn more about the boat and the man by doing a little research!  The boat, the U.S.S. Barb – the man, Commander Eugene Fluckey.
Medal Of Honor recipient – October 5, 1913 – June 28, 2007.
<![if !supportEmptyParas]> <![endif]>
<![if !vml]>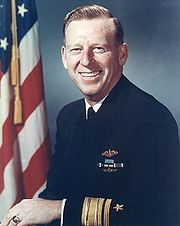 <![endif]>
Rear Admiral Eugene B. Fluckey, March 12, 1963
<![if !supportEmptyParas]> <![endif]>
U.S.S. Barb: The Sub That Sank A Train
Eight sailors conducted the ONLY GROUND COMBAT OPERATION on the Japanese "homeland" of World War II.

In 1973 an Italian submarine named Enrique Tazzoli was sold for a paltry $100,000 as scrap metal. The submarine, given to the Italian Navy in 1953 was actually an incredible veteran of World War II service with a heritage that never should have passed so unnoticed into the graveyards of the metal recyclers. The U.S.S. Barb was a pioneer, paving the way for the first submarine launched missiles and flying a battle flag unlike that of any other ship. In addition to the Medal of Honor ribbon at the top of the flag identifying the heroism of its captain, Commander Eugene "Lucky" Fluckey, the bottom border of the flag bore the image of a Japanese locomotive. The U.S.S. Barb was indeed, the submarine that "SANK A TRAIN".

July, 1945 ( Guam )
Fleet Admiral Chester Nimitz looked across the desk at Admiral Lockwood as he finished the personal briefing on U.S. war ships in the vicinity of the northern coastal areas of Hokkaido , Japan . "Well, Chester , there's only the Barb there, and probably no word until the patrol is finished. You remember Gene Fluckey?" "Of course. I recommended him for the Medal of Honor," Admiral Nimitz replied. "You surely pulled him from command after he received it?"

July 18, 1945 (Patience Bay, Off the coast of Karafuto , Japan )
It was after 4 A.M. and Commander Fluckey rubbed his eyes as he peered over the map spread before him. It was the twelfth war patrol of the Barb, the fifth under Commander Fluckey. He should have turned command over to another skipper after four patrols, but had managed to strike a deal with Admiral Lockwood to make one more trip with the men he cared for like a father, should his fourth patrol be successful. Of course, no one suspected when he had struck that deal prior to his fourth and what should have been his final war patrol on the Barb, that Commander Fluckey's success would be so great he would be awarded the Medal of Honor.

Commander Fluckey smiled as he remembered that patrol. "Lucky" Fluckey they called him. On January 8th the Barb had emerged victorious from a running two-hour night battle after sinking a large enemy ammunition ship. Two weeks later in Mamkwan Harbor he found the "mother-lode"...more than 30 enemy ships. In only 5 fathoms (30 feet) of water his crew had unleashed the sub's forward torpedoes, then turned and fired four from the stern. As he pushed the Barb to the full limit of its speed through the dangerous waters in a daring withdrawal to the open sea, he recorded eight direct hits on six enemy ships. Then, on the return home he added yet another Japanese freighter to the tally for the Barb's eleventh patrol, a score that exceeded even the number of that patrol.

What could possibly be left for the Commander to accomplish who, just three months earlier had been in Washington , DC to receive the Medal of Honor? He smiled to himself as he looked again at the map showing the rail line that ran along the enemy coastline. This final patrol had been promised as the Barb's "graduation patrol" and he and his crew had cooked up an unusual finale. Since the 8th of June they had harassed the enemy, destroying the enemy supplies and coastal fortifications with the first submarine launched rocket attacks. Now his crew was buzzing excitedly about bagging a train.

The rail line itself wouldn't be a problem. A shore patrol could go ashore under cover of darkness to plant the explosives...one of the sub's 55-pound scuttling charges. But this early morning Lucky Fluckey and his officers were puzzling over how they could blow not only the rails, but also one of the frequent trains that shuttled supplies to equip the Japanese war machine. Such a daring feat could handicap the enemy's war effort for several days, a week, perhaps even longer. It was a crazy idea, just the kind of operation "Lucky" Fluckey had become famous...or infamous...for. But no matter how crazy the idea might have sounded, the Barb's skipper would not risk the lives of his men. Thus the problem... how to detonate the charge at the moment the train passed, without endangering the life of a shore party. PROBLEM? Not on Commander Fluckey's ship. His philosophy had always been "We didn't have problems, only solutions".

11:27 AM
" Battle Stations!" No more time to seek solutions or to ponder blowing up a train. The approach of a Japanese freighter with a frigate escort demands traditional submarine warfare. By noon the frigate is laying on the ocean floor in pieces and the Barb is in danger of becoming the hunted.
6:07 PM
Solutions! If you don't look for them, you'll never find them. And even then, sometimes they arrive in the most unusual fashion. Cruising slowly beneath the surface to evade the enemy plane now circling overhead, the monotony is broken with an exciting new idea. Instead of having a crewman on shore to trigger explosives to blow both rail and a passing train, why not let the train BLOW ITSELF up. Billy Hatfield was excitedly explaining how he had cracked nuts on the railroad tracks as a kid, placing the nuts between two ties so the sagging of the rail under the weight of a train would break them open. "Just like cracking walnuts," he explained. "To complete the circuit (detonating the 55-pound charge) we hook in a micro switch ...between two ties. We don't set it off, the TRAIN does." Not only did Hatfield have the plan, he wanted to be part of the volunteer shore party.

The solution found, there was no shortage of volunteers, all that was needed was the proper weather...a little cloud cover to darken the moon for the mission ashore. Lucky Fluckey established his own criteria for the volunteer party:
...No married men would be included, except for Hatfield,
...The party would include members from each department,
...The opportunity would be split between regular Navy and Navy Reserve sailors,
...At least half of the men had to have been Boy Scouts, experienced in how to handle themselves in medical emergencies and in the woods.
FINALLY, "Lucky" Fluckey would lead the saboteurs himself.

When the names of the 8 selected sailors was announced it was greeted with a mixture of excitement and disappointment. Among the disappointed was Commander Fluckey who surrendered his opportunity at the insistence of his officers that "as commander he belonged with the Barb," coupled with the threat from one that "I swear I'll send a message to ComSubPac
if you attempt this (joining the shore party himself)." Even a Japanese POW being held on the Barb wanted to go, promising not to try to escape.

In the meantime, there would be no more harassment of Japanese shipping or shore operations by the Barb until the train mission had been accomplished. The crew would "lay low", prepare their equipment, train, and wait for the weather.

July 22, 1945 (Patience Bay, Off the coast of Karafuto , Japan )
Patience Bay was wearing thin the patience of Commander Fluckey and his innovative crew. Everything was ready. In the four days the saboteurs had anxiously watched the skies for cloud cover, the inventive crew of the Barb had built their micro switch. When the need was posed for a pick and shovel to bury the explosive charge and batteries, the Barb's engineers had cut up steel plates in the lower flats of an engine room, then bent and welded them to create the needed tools. The only things beyond their control were the weather....and time. Only five days remained in the Barb's patrol.

Anxiously watching the skies, Commander Fluckey noticed plumes of cirrus clouds, then white stratus capping the mountain peaks ashore. A cloud cover was building to hide the three-quarters moon. This would be the night.

MIDNIGHT, July 23, 1945
The Barb had crept within 950 yards of the shoreline. If it was somehow seen from the shore it would probably be mistaken for a schooner or Japanese patrol boat. No one would suspect an American submarine so close to shore or in such shallow water. Slowly the small boats were lowered to the water and the 8 saboteurs began paddling toward the enemy beach. Twenty-five minutes later they pulled the boats ashore and walked onto the surface of the Japanese homeland. Having lost their points of navigation, the saboteurs landed near the backyard of a house. Fortunately the residents had no dogs, though the sight of human AND dog's tracks in the sand along the beach alerted the brave sailors to the potential for unexpected danger.

Stumbling through noisy waist-high grasses, crossing a highway and then stumbling into a 4-foot drainage ditch, the saboteurs made their way to the railroad tracks. Three men were posted as guards, Markuson assigned to examine a nearby water tower. The Barb's auxiliary man climbed the ladder, then stopped in shock as he realized it was an enemy lookout tower....an OCCUPIED tower. Fortunately the Japanese sentry was peacefully sleeping and Markuson was able to quietly withdraw and warn his raiding party.

The news from Markuson caused the men digging the placement for the explosive charge to continue their work more slowly and quietly.
Suddenly, from less than 80 yards away, an express train was bearing down on them. The appearance was a surprise, it hadn't occurred to the crew during the planning for the mission that there might be a night train. When at last it passed, the brave but nervous sailors extracted themselves from the brush into which they had leapt, to continue their task. Twenty minutes later the holes had been dug and the explosives and batteries hidden beneath fresh soil.

During planning for the mission the saboteurs had been told that, with the explosives in place, all would retreat a safe distance while Hatfield made the final connection. If the sailor who had once cracked walnuts on the railroad tracks slipped during this final, dangerous procedure, his would be the only life lost. On this night it was the only order the saboteurs refused to obey, all of them peering anxiously over Hatfield's shoulder to make sure he did it right. The men had come too far to be disappointed by a switch failure.

1:32 A.M.
Watching from the deck of the Barb, Commander Fluckey allowed himself a sigh of relief as he noticed the flashlight signal from the beach announcing the departure of the shore party. He had skillfully, and daringly, guided the Barb within 600 yards of the enemy beach. There was less than 6 feet of water beneath the sub's keel, but Fluckey wanted to be close in case trouble arose and a daring rescue of his saboteurs became
necessary.

1:45 A.M.
The two boats carrying his saboteurs were only halfway back to the Barb when the sub's machine gunner yelled, "CAPTAIN! Another train coming up the tracks!" The Commander grabbed a megaphone and yelled through the night, "Paddle like the devil!", knowing full well that they wouldn't reach the Barb before the train hit the micro switch.

1:47 A.M.
The darkness was shattered by brilliant light and the roar of the
explosion. The boilers of the locomotive blew, shattered pieces of the engine blowing 200 feet into the air. Behind it the cars began to accordion into each other, bursting into flame and adding to the magnificent fireworks display. Five minutes later the saboteurs were lifted to the deck by their exuberant comrades as the Barb turned to slip back to safer waters. Moving at only two knots, it would be a while before the Barb was into waters deep enough to allow it to submerge. It was a moment to savor, the culmination of teamwork, ingenuity, and daring by the Commander and all his crew. "Lucky" Fluckey's voice came over the intercom. "All hands below deck not absolutely needed to maneuver the ship have permission to come topside." He didn't have to repeat the invitation. Hatches sprang open as the proud sailors of the Barb gathered on her decks to proudly watch the distant fireworks display.
The Barb had "sunk" a Japanese TRAIN!

On August 2, 1945 the Barb arrived at Midway, her twelfth war patrol concluded. Meanwhile United States military commanders had pondered the prospect of an armed assault on the Japanese homeland. Military tacticians estimated such an invasion would cost more than a million American casualties. Instead of such a costly armed offensive to end the war, on August 6th the B-29 bomber Enola Gay dropped a single atomic bomb on the city of Hiroshima , Japan . A second such bomb, unleashed 4 days later on Nagasaki , Japan , caused Japan to agree to surrender terms on August 15th. On September 2, 1945 in Tokyo Harbor the documents ending the war in the Pacific were signed.

The story of the saboteurs of the U.S.S. Barb is one of those unique, little known stories of World War II. It becomes increasingly important when one realizes that the 8 sailors who blew up the train at near Kashiho , Japan conducted the ONLY GROUND COMBAT OPERATION on the Japanese "homeland" of World War II. The eight saboteurs were:
<![if !supportEmptyParas]> <![endif]>
Paul Saunders
William Hatfield
Francis Sever
 Lawrence Newland
Edward Klinglesmith
James Richard
John Markuson
William Walker.

Footnote: Eugene Bennett Fluckey retired from the Navy as a Rear Admiral, and wears in addition to his Medal of Honor, FOUR Navy Crosses...a record of awards unmatched by any living American. In 1992 his own history of the U.S.S. Barb was published in the award winning book, THUNDER BELOW. Over the past several years proceeds from the sale of this exciting book have been used by Admiral Fluckey to provide free reunions for the men who served him aboard the Barb, and their wives.
<![if !supportEmptyParas]> <![endif]>
<![if !supportEmptyParas]> <![endif]>
1937 Ford House-Car – perhaps the very first motor home!  Great find!  Great pictures!
<![if !supportEmptyParas]> <![endif]>
<![if !supportEmptyParas]> <![endif]>
Just in case you are wondering – this is what the beautiful beaches at Pensacola look like in the Summer of the Deepwater Gusher:
<![if !supportEmptyParas]> <![endif]>
<![if !vml]>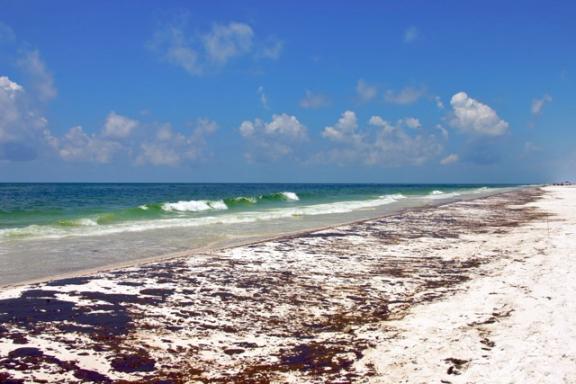 <![endif]>
<![if !supportEmptyParas]> <![endif]>
<![if !supportEmptyParas]> <![endif]>
This Sign Is Priceless!
<![if !supportEmptyParas]> <![endif]>
<![if !vml]>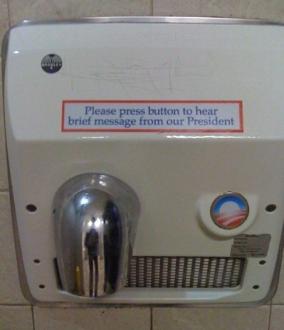 <![endif]>
<![if !supportEmptyParas]> <![endif]>
<![if !supportEmptyParas]> <![endif]>
<![if !supportEmptyParas]> <![endif]>
<![if !supportEmptyParas]> <![endif]>
What we don't see or hear about when the turbines go bad:
<![if !supportEmptyParas]> <![endif]>
<![if !supportEmptyParas]> <![endif]>
Editor's Note:  Would these things even exist without fossil fuel products to keep them going?
<![if !supportEmptyParas]> <![endif]>
<![if !supportEmptyParas]> <![endif]>
John is the kind of guy you love to hate. He is always in a good mood and always has something positive to say. When someone would ask him how he was doing, he would reply, 'If I were any better, I would be twins!'

He was a natural motivator.

If an employee was having a bad day, John was there telling the employee how to look on the positive side of the situation.

Seeing this style really made me curious, so one day I went up and asked him, 'I don't get it!'

'You can't be a positive person all of the time. How do you do it?'

He replied, 'Each morning I wake up and say to myself, you have two choices today. You can choose to be in a good mood or....you can choose to be in a bad mood

I choose to be in a good mood.'

Each time something bad happens, I can choose to be a victim or...I can choose to learn from it.. I choose to learn from it.

Every time someone comes to me complaining, I can choose to accept their complaining or...I can point out the positive side of life. I choose the positive side of life..

'Yeah, right, it's not that easy,' I protested.

'Yes, it is,' he said. 'Life is all about choices. When you cut away all the junk, every situation is a choice. You choose how you react to situations. You choose how people affect your mood.

You choose to be in a good mood or bad mood. The bottom line: It's your choice how you live your life.'

I reflected on what he said.. Soon hereafter, I left the Tower Industry to start my own business. We lost touch, but I often thought about him when I made a choice about life instead of reacting to it.
<![if !supportLineBreakNewLine]>
<![endif]>
Several years later, I heard that he was involved in a serious accident, falling some 60 feet from a communications tower.

After 18 hours of surgery and weeks of intensive care, he was released from the hospital with rods placed in his back.

I saw him about six months after the accident.

When I asked him how he was, he replied, 'If I were any better, I'd be twins....Wanna see my scars?'

I declined to see his wounds, but I did ask him what had gone through his mind as the accident took place.

'The first thing that went through my mind was the well-being of my soon-to-be born daughter,' he replied. 'Then, as I lay on the ground, I remembered that I had two choices: I could choose to live or....I could choose to die. I chose to live.'

'Weren't you scared? Did you lose consciousness?' I asked.

He continued, '...the paramedics were great.

They kept telling me I was going to be fine. But when they wheeled me into the ER and I saw the expressions on the faces of the doctors and nurses, I got really scared. In their eyes, I read 'he's a dead man'. I knew I needed to take action.'

'What did you do?' I asked.

'Well, there was a big burly nurse shouting questions at me,' said John. 'She asked if I was allergic to anything 'Yes, I replied.' The doctors and nurses stopped working as they waited for my reply. I took a deep breath and yelled, 'Gravity''

Over their laughter, I told them, 'I am choosing to live.. Operate on me as if I am alive, not dead.'

He lived, thanks to the skill of his doctors, but also because of his amazing attitude....I learned from him that every day we have the choice to live fully.

Attitude, after all, is everything.

Therefore do not worry about tomorrow, for tomorrow will worry about itself. Each day has enough trouble of its own.' Matthew 6:34.
<![if !supportEmptyParas]> <![endif]>
<![if !supportEmptyParas]> <![endif]>
These were posted on an Australian Tourism Website and the answers are the actual responses by the website officials, who obviously have a great sense of humour (not to mention a low tolerance threshold for cretins!)

__________________________________________________

Q: Does it ever get windy in Australia ? I have never seen it rain on TV, how do the plants grow? (UK ).
A: We import all plants fully grown and then just sit around watching them die.
__________________________________________________
Q: Will I be able to see kangaroos in the street? ( USA )
A:Depends how much you've been drinking.
__________________________________________________
Q:I want to walk from Perth to Sydney - can I follow the railroad tracks? ( Sweden)
A: Sure, it's only three thousand miles, take lots of water.
__________________________________________________
Q: Are there any ATMs (cash machines) in Australia ? Can you send me a list of them in Brisbane , Cairns , Townsville and Hervey Bay ? ( UK)
A: What did your last slave die of?
__________________________________________________
Q:Can you give me some information about hippo racing in Australia ? ( USA )
A: A-Fri-ca is the big triangle shaped continent south of Europe .
Aus-tra-lia is that big island in the middle of the Pacific which does not
... Oh forget it. Sure, the hippo racing is every Tuesday night in Kings Cross. Come naked.
__________________________________________________
Q:Which direction is North in Australia ? (USA )
A: Face south and then turn 180 degrees. Contact us when you get here and we'll send the rest of the directions.
_________________________________________________
Q: Can I bring cutlery into Australia ? ( UK )
A:Why? Just use your fingers like we do...
__________________________________________________
Q:Can you send me the Vienna Boys' Choir schedule? ( USA )
A: Aus-tri-a is that quaint little country bordering Ger-man-y, which is
Oh forget it. Sure, the Vienna Boys Choir plays every Tuesday night in Kings Cross, straight after the hippo races. Come naked.
__________________________________________________
Q: Can I wear high heels in Australia ? ( UK )
A: You are a British politician, right?
__________________________________________________
Q:Are there supermarkets in Sydney and is milk available all year round? ( Germany )
A: No, we are a peaceful civilization of vegan hunter/gatherers.
Milk is illegal.
__________________________________________________
Q:Please send a list of all doctors in Australia who can Dispense rattlesnake serum. ( USA )
A: Rattlesnakes live in A-meri-ca which is where YOU come from.
All Australian snakes are perfectly harmless, can be safely handled and make good pets.
__________________________________________________
Q:I have a question about a famous animal in Australia , but I forget its name. It's a kind of bear and lives in trees. ( USA )
A: It's called a Drop Bear. They are so called because they drop out of Gum trees and eat the brains of anyone walking underneath them.
You can scare them off by spraying yourself with human urine before you go out walking.
__________________________________________________
Q:Do you celebrate Christmas in Australia ? ( France )
A: Only at Christmas.
__________________________________________________
Q: Will I be able to speak English most places I go? ( USA )
A: Yes, but you'll have to learn it first
<![if !supportEmptyParas]> <![endif]>
<![if !supportEmptyParas]> <![endif]>
From an engineer (ex-NASA project director) on Airport Security:

Here's a solution to all the controversy over full-body
scanners at the airports. Have a booth that you can step into
that will not X-ray you, but will detonate any explosive device
you may have on you.

It would be a win-win for everyone, and there would be none of this
crap about racial profiling and this method would eliminate a long
and expensive trial. Justice would be quick and swift.

Case Closed!
<![if !supportEmptyParas]> <![endif]>
<![if !supportEmptyParas]> <![endif]>
Many folks over 50 are quite confused today about how we should present ourselves. Feeling 'young' , we try to conform to current fashions and present a youthful image.
Contrary to what you may have seen on the streets, the following combinations DO NOT go together and should be avoided:

1. A nose ring and bifocals

2. Spiked hair and bald spots

3.. A pierced tongue and dentures

4. Miniskirts and support hose

5. Ankle bracelets and corn pads

6. Speedos and cellulite

7. A belly button ring and a gall bladder surgery scar

8. Unbuttoned disco shirts and a heart monitor

9. Midriff shirts and a midriff bulge

10. Bikinis and liver spots

11. Mini skirts and varicose veins

And, Most importantly

At some point you have to give up the 'DAISY DUKE' shorts

<![if !vml]>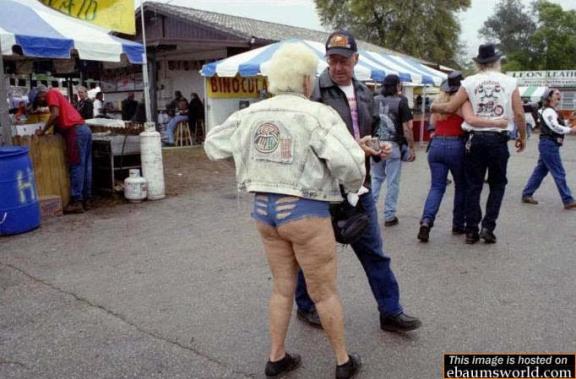 <![endif]>
<![if !supportEmptyParas]> <![endif]>
<![if !supportEmptyParas]> <![endif]>
This is really cool - & kinda scary that it can do what it does.
<![if !supportEmptyParas]> <![endif]>
In case you feel nostalgic for any locations:
<![if !supportEmptyParas]> <![endif]>
WHEN YOU LEARN HOW TO MANUVER THIS YOU CAN ACTUALLY WANDER AROUND YOUR OLD NEIGHBORHOOD AND SEE ALL THE CHANGES.
 
Put in any address where you used to live and use the up and down arrows to navigate around your old neighborhood.
 
When you enter an address you will see a picture of that place.
There's a little map with a little man on it - you can move the little man up and down the block if you need to.
 
I just looked at my childhood home!
 
Really nice website!
 
http://www.vpike.com/
<![if !supportLineBreakNewLine]>
<![endif]>
<![if !supportEmptyParas]> <![endif]>
$5.37. That's what the kid behind the counter at Taco Bell said to me.

I dug into my pocket and pulled out some lint and two dimes and something that used to be a Jolly Rancher. Having already handed the kid a five-spot, I started to head back out to the truck to grab some change when the kid with the Elmo hairdo said the harshest thing anyone has ever said to me.

He said, "It's OK. I'll just give you the senior citizen discount."

I turned to see who he was talking to and then heard the sound of change hitting the counter in front of me. "Only $4.68" he said cheerfully.

I stood there stupefied. I am 48, not even 50 yet? A mere child! Senior citizen?

I took my burrito and walked out to the truck wondering what was wrong with Elmo. Was he blind? As I sat in the truck, my blood began to boil. Old? Me?

I'll show him, I thought. I opened the door and headed back inside. I strode to the counter, and there he was waiting with a smile.

Before I could say a word, he held up something and jingled it in front of me, like I could be that easily distracted!

What am I now? A toddler?

"Dude! Can't get too far without your car keys, eh?"

I stared with utter disdain at the keys.

I began to rationalize in my mind.

"Leaving keys behind hardly makes a man elderly!  It could happen to anyone!"

I turned and headed back to the truck.

I slipped the key into the ignition, but it wouldn't turn.

What now? I checked my keys and tried another.

Still nothing.

That's when I noticed the purple beads hanging from my rearview mirror.. I had no purple beads hanging from my rearview mirror.

Then, a few other objects came into focus.  The car seat in the back seat. Happy Meal toys spread all over the floorboard. A partially eaten doughnut on the dashboard. Faster than you can say ginkgo biloba, I flew out of the alien vehicle.

Moments later I was speeding out of the parking lot, relieved to finally be leaving this nightmarish stop in my life. That is when I felt it, deep in the bowels of my stomach: hunger! My stomach growled and churned, and I reached to grab my burrito, only it was nowhere to be found.

I swung the truck around, gathered my courage, and strode back into the restaurant one final time.

There Elmo stood, draped in youth and black nail polish. All I could think was, "What is the world coming to?" All I could say was, "Did I leave my food and drink in here?"
<![if !supportLineBreakNewLine]>
<![endif]>
At this point I was ready to ask a Boy Scout to help me back to my vehicle, and then go straight home and apply for Social Security benefits.

Elmo had no clue. I walked back out to the truck, and suddenly a young lad came up and tugged on my jeans to get my attention. He was holding up a drink and a bag. His mother explained, "I think you left this in my truck by mistake."

I took the food and drink from the little boy and sheepishly apologized.

She offered these kind words: "It's OK. My grandfather does stuff like this all the time."

All of this is to explain how I got a ticket doing 85 in a 40 zone. Yes, I was racing some punk kid in a Toyota Prius.  And no, I told the officer, I'm not too old to be driving this fast.

As I walked in the front door, my wife met me halfway down the hall. I handed her a bag of cold food and a $300 speeding ticket. I promptly sat in my rocking chair and covered  up my legs with a blankey.

The good news was that I had successfully found my way home.
<![if !supportEmptyParas]> <![endif]>
<![if !supportEmptyParas]> <![endif]>
Histolessonry

They used to use urine to tan animal skins, so families used to all pee
in a pot & then once a day it was taken & sold to the tannery..... ..if
you had to do this to survive you were "Piss Poor."
But worse than that were the really poor folk who couldn't even afford
to buy a pot......they "didn't have a pot to piss in" & were the lowest
of the low.
The floor was dirt. Only the wealthy had something other than dirt.
Hence the saying, "Dirt poor."
The wealthy had slate floors that would get slippery in the winter when
wet, so they spread thresh (straw) on floor to help keep their footing.
As the winter wore on, they added more thresh until, when you opened the
door, it would all start slipping outside. A piece of wood was placed in
the entrance-way. Hence: a thresh hold.
(Getting quite an education, aren't you?)
Sometimes they could obtain pork, which made them feel quite special.
When visitors came over, they would hang up their bacon to show off. It
was a sign of wealth that a man could, "bring home the bacon." They
would cut off a little to share with guests and would all sit around and
chew the fat.
Bread was divided according to status. Workers got the burnt bottom of
the loaf, the family got the middle, and guests got the top, or the
upper crust..
Lead cups were used to drink ale or whisky. The combination would
sometimes knock the imbibers out for a couple of days. Someone walking
along the road would take them for dead and prepare them for burial.
They were laid out on the kitchen table for a couple of days and the
family would gather around and eat and drink and wait and see if they
would wake up. Hence the custom of holding a wake.
England is old and small and the local folks started running out of
places to bury people. So they would dig up coffins and would take the
bones to a bone-house, and reuse the grave. When reopening these
coffins, 1 out of 25 coffins were found to have scratch marks on the
inside and they realized they had been burying people alive. So they
would tie a string on the wrist of the corpse, lead it through the
coffin and up through the ground and tie it to a bell. Someone would
have to sit out in the graveyard all night (the graveyard shift.) to
listen for the bell; thus,someone could be, saved by the bell or was
considered a dead ringer...
And that's the truth...Now, whoever said History was boring!
<![if !supportEmptyParas]> <![endif]>
<![if !supportEmptyParas]> <![endif]>
Quote Of The Week:

"Frankly, I don't know what it is about California , but we seem to have a strange urge to elect really obnoxious women to high office. I'm not bragging, you understand, but no other state, including Maine , even comes close. When it comes to sending left-wing dingbats to Washington , we're number one. There's no getting around the fact that the last time anyone saw the likes of Barbara Boxer, Dianne Feinstein, and Nancy Pelosi, they were stirring a cauldron when the curtain went up on 'Macbeth'. The three of them are like jackasses who happen to possess the gift of blab. You don't know if you should condemn them for their stupidity or simply marvel at their ability to form words."

--columnist Burt Prelutsky , LA Times
<![if !supportEmptyParas]> <![endif]>
<![if !supportEmptyParas]> <![endif]>
Ever think about these things?
<![if !supportEmptyParas]> <![endif]>
Random Thoughts for the Day:

1) I think part of a best friend's job should be to immediately clear your computer history if you die.

2) Nothing sucks more than that moment during an argument when you realize you're wrong.

3) I totally take back all those times I didn't want to nap when I was younger.

4) There is great need for a sarcasm font.

5) How the h..... Are you supposed to fold a fitted sheet?

6) Was learning cursive really necessary?

7) Map Quest really needs to start their directions on #5. Pretty sure I know how
to get out of my neighborhood.

8) Obituaries would be a lot more interesting if they told you how the person died.

9) I can't remember the last time I wasn't at least kind of tired.

10) Bad decisions make good stories.

11) You never know when it will strike, but there comes a moment at work when you know that you
just aren't going to do anything productive for the rest of the day.

12) Can we all just agree to ignore whatever comes after Blue Ray? I don't want to have to restart my collection...again.

13) I'm always slightly terrified when I exit out of Word and it asks me if I want to save any changes to my ten page
research paper that I swear I did not make any changes to.

14) "Do not machine wash or tumble dry" means I will never wash this -- ever.

15) I hate when I just miss a call by the last ring (Hello? Hello? D..... It!), but when I immediately call back, it
rings nine times and goes to voicemail. What'd you do after I didn't answer? Drop the phone and run away?

16) I hate leaving my house confident and looking good and then not seeing anyone of importance the
entire day. What a waste..

17) I keep some people's phone numbers in my phone just so I know not to answer when they call.

18) My 4-year old son asked me in the car the other day "Dad what would happen if you ran over
a ninja?" How the he.... Do I respond to that?

19) I think the freezer deserves a light as well.

20) I disagree with Kay Jewelers...I would bet on any given Friday or Saturday night more kisses
begin with Miller Lites than Kay.
<![if !supportEmptyParas]> <![endif]>
<![if !supportEmptyParas]> <![endif]>
If Johnny Carson was still around, Leno & Letterman wouldn't have a chance!
The real tonight show. The good ol' days. This trick has never been repeated in modern times.... Johnny Carson and Dom DeLuise. If this doesn't bring a smile, you're brain dead. Click below.
<![if !supportEmptyParas]> <![endif]>
<![if !supportEmptyParas]> <![endif]>
Actual letter from a rancher, who tried this!

I had this idea that I was going to rope a deer, put it in a stall, feed it up on corn for a couple of weeks, then kill it and eat it.

The first step in this adventure was getting a deer. I figured that, since they congregate at my cattle feeder and do not seem to have much fear of me when we are there (a bold one will sometimes come right up and sniff at the bags of feed while I am in the back of the truck not 4 feet away), it should not be difficult to rope one, get up to it and toss a bag over its head (to calm it down) then hog tie it and transport it home.

I filled the cattle feeder then hid down at the end with my rope.. The cattle, having seen the roping thing before, stayed well back. They were not having any of it.

After about 20 minutes, my deer showed up -- 3 of them. I picked out....a likely looking one, stepped out from the end of the feeder, and threw..my rope. The deer just stood there and stared at me. I wrapped the rope around my waist and twisted the end so I would have a good hold. The deer still just stood and stared at me, but you could tell it was mildly concerned about the whole rope situation. I took a step towards it...it took a step away. I put a little tension on the rope and then received an education.

The first thing that I learned is that, while a deer may just stand there looking at you funny while you rope it, they are spurred to action when you start pulling on that rope.

That deer EXPLODED.

The second thing I learned is that pound for pound, a deer is a LOT stronger than a cow or a colt. A cow or a colt in that weight range I could fight down with a rope and with some dignity.

A deer-- no chance.

That thing ran and bucked and twisted and pulled. There was no controlling it and certainly no getting close to it. As it jerked me off my feet and started dragging me across the ground, it occurred to me that having a deer on a rope was not nearly as good an idea as I had originally imagined.

The only up side is that they do not have as much stamina as many other animals. A brief 10 minutes later, it was tired and not nearly as quick to jerk me off my feet and drag me when I managed to get up. It took me a few minutes to realize this, since I was mostly blinded by the blood flowing out of the big gash in my head. At that point, I had lost my taste for corn-fed venison. I just wanted to get that devil creature off the end of that rope.

I figured if I just let it go with the rope hanging around its neck, it would likely die slow and painfully somewhere. At the time, there was no love at all between me and that deer. At that moment, I hated the thing, and I would venture a guess that the feeling was mutual.

Despite the gash in my head and the several large knots where I had cleverly arrested the deer's momentum by bracing my head against various large rocks as it dragged me across the ground, I could still think clearly enough to recognize that there was a small chance that I shared some tiny amount of responsibility for the situation we were in, so I didn't want the deer to have to suffer a slow death, so I managed to get it lined back up in between my truck and the feeder - a little trap I had set before hand...kind of like a squeeze chute.

I got it to back in there and I started moving up so I could get my rope back. Did you know that deer bite? They do! I never in a million years would have thought that a deer would bite somebody, so I was very surprised when... I reached up there to grab that rope and the deer grabbed hold of my wrist.

Now, when a deer bites you, it is not like being bit by a horse where they just bite you and then let go. A deer bites you and shakes its head --almost like a pit bull. They bite HARD and it hurts.

The proper thing to do when a deer bites you is probably to freeze and draw back slowly. I tried screaming and shaking instead. My method was ineffective. It seems like the deer was biting and shaking for several minutes, but it was likely only several seconds.

I, being smarter than a deer (though you may be questioning that claim by now), tricked it.. While I kept it busy tearing the tendons out of my right arm, I reached up with my left hand and pulled that rope loose. That was when I got my final lesson in deer behavior for the day.

Deer will strike at you with their front feet. They rear right up on their back feet and strike right about head and shoulder level, and their hooves are surprisingly sharp. I learned a long time ago that, when an animal --like a horse --strikes at you with their hooves and you can't get away easily, the best thing to do is try to make a loud noise and make an aggressive move towards the animal. This will usually cause them to back down a bit so you can escape.

This was not a horse. This was a deer, so obviously such trickery would not work. In the course of a millisecond, I devised a different strategy. I screamed like a woman and tried to turn and run.

The reason I had always been told NOT to try to turn and run from a horse that paws at you is that there is a good chance that it will hit you in the back of the head. Deer may not be so different from horses after all, besides being twice as strong and 3 times as evil, because the second I turned to run, it hit me right in the back of the head and knocked me down, Now, when a deer paws at you and knocks you down, it does not immediately leave. I suspect it does not recognize that the danger has passed. What they do instead is paw your back and jump up and down on you while you are lying there crying like a little girl and covering your head. I finally managed to crawl under the truck and the deer went away.

So now I know why when people go deer hunting they bring a rifle with a scope to sort of even the odds.

All these events are true so help me God...
<![if !supportEmptyParas]> <![endif]>
<![if !supportEmptyParas]> <![endif]>
This was this guy's first boat and he was taking it to the lake, but he wasn't quite sure of the correct procedure for launching a boat off a ramp. However, he figured it couldn't be that difficult to do, so he stopped by his Union office for advice, and they just told him... "Don't let the trailer get too deep in the water when you're launching your boat".

Well later on, he couldn't understand what they meant by that, as he just could barely get his trailer in the water! Here's a picture worth a thousand words! You're gonna love this guy!!! Some people shouldn't be allowed to get married, have children or vote!

Sticker on back glass explains everything!!!
<![if !vml]>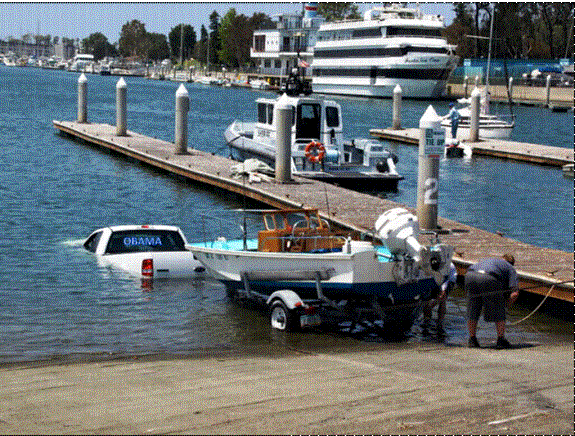 <![endif]>
<![if !supportEmptyParas]> <![endif]>
<![if !supportEmptyParas]> <![endif]>
From Letters to the Editor - Pahrump Valley Times
<![if !supportEmptyParas]> <![endif]>
Party-crashers or undocumented guests?
I don't understand why the White House is so upset about the two party-crashers at Obama's steak dinner the other night.
Is it really appropriate and politically correct to call them party-crashers just because they trespassed on Obama? Does that make them criminals? Isn't that discrimination? Shouldn't they be rewarded for such bold and brave behavior? Maybe they were just trying to feed their family.
I would suggest that it's more appropriate to call them "undocumented guests."
Just because they weren't officially invited doesn't mean they should be treated like criminals. Maybe they should get free health care, free housing, free legal services and free White House green cards so next time they can enter legally. And they should be able to bring all of their relatives and family members too.
How can Obama be mad at them just because they crossed over some arbitrary man-made border? They were only there to do the things that regularly invited guests didn't want to do. (Like hang out with Joe Biden.)
How can the White House punish these poor, oppressed, undocumented visitors? Where are Jesse Jackson, Al Sharpton and the ACLU?
BRIAN K. SHOEMAKE
<![if !supportEmptyParas]> <![endif]>
<![if !supportEmptyParas]> <![endif]>
Raisins and Grapes Harmful To Dogs – snopes says, True!
<![if !supportEmptyParas]> <![endif]>
Written by:
Laurinda Morris, DVM
Danville Veterinary Clinic
Danville , OH

This week I had the first case in history of raisin toxicity ever seen at MedVet. My patient was a 56-pound, 5 yr old male neutered lab mix that ate half a canister of raisins sometime between 7:30 AM and 4:30 PM on Tuesday. He started with vomiting, diarrhea and shaking about 1 AM on Wednesday but the owner didn't call my emergency service until 7 AM..

I had heard somewhere about raisins AND grapes causing acute Renal failure but hadn't
seen any formal paper on the subject. We had her bring the dog in immediately. In the
meantime, I called the ER service at MedVet, and the doctor there was like me - had heard something about it, but... Anyway, we contacted the ASPCA National Animal Poison Control Center and they said to give IV fluids at 1 & 1/2 times maintenance and watch the kidney values for the next 48-72 hours.
<![if !supportEmptyParas]> <![endif]>
The dog's BUN (blood urea nitrogen level) was already at 32 (normal less than 27) and
creatinine over 5 (1.9 is the high end of normal).  Both are monitors of kidney function in the bloodstream. We placed an IV catheter and started the fluids. Rechecked the renal values at 5 PM and the BUN was over 40 and creatinine over 7 with no urine production after a liter of fluids. At that point I felt the dog was in acute renal failure and sent him on to MedVet for a urinary catheter to monitor urine output overnight as well as overnight care.
<![if !supportEmptyParas]> <![endif]>
He started vomiting again overnight at MedVet and his renal values continued to increase
daily. He produced urine when given lasix as a diuretic. He was on 3 different anti-vomiting medications and they still couldn't control his vomiting. Today his urine output decreased again, his BUN was over 120, his creatinine was at 10, his phosphorus was very elevated and his blood pressure, which had been staying around 150, skyrocketed to 220 ... He continued to vomit and the owners elected to Euthanize.

This is a very sad case - great dog, great owners who had no idea raisins could be a toxin. Please alert everyone you know who has a dog of this very serious risk.  Poison control said as few as 7 raisins or grapes could be toxic. Many people I know give their dogs grapes or raisins as treats including our ex-handler's. Any exposure should give rise to immediate concern..
<![if !supportEmptyParas]> <![endif]>
Onions, chocolate, cocoa, avocadoes and macadamia nuts can be fatal, too.

Even if you don't have a dog, you might have friends who do. This is worth passing on to them.
<![if !supportEmptyParas]> <![endif]>
<![if !supportEmptyParas]> <![endif]>
Letter Sent To AARP – Excellent justification for not joining or renewing membership!
<![if !supportEmptyParas]> <![endif]>
<![if !supportEmptyParas]> <![endif]>
Being a veterinarian, I had been called to examine a ten-year-old Irish Wolfhound named Belker. The dog's owner and their little boy, Shane, were all attached to Belker and they were hoping for a miracle.

I examined Belker and found he was dying of cancer. I told the family we couldn't do anything for Balker, and offered to perform the euthanasia procedure for the old dog in their home. As we made arrangements, the parents told me they thought it would be good for six-year-old Shane and he might learn something from the experience.

The next day, I felt the familiar catch in my throat as Belker's family surrounded him. Shane seemed so calm, as they were petting the old dog for the last time, that I wondered if he understood what was going on. The little boy seemed to accept Belker's transition without any difficulty or confusion. We sat together for a while wondering aloud about the sad fact that animal lives are shorter than human lives. Shane, who had been listening quietly piped up, "I know why."

Startled, we all turned to him. He said, "People are born so that they can learn how to live a good life - like loving everybody all the time and being nice, right? He continued, "well dogs already know how to do that, so they don't have to stay as long."

Remember, if a dog was the teacher, you would learn things like:

When loved ones come home, always run to greet them, never pass up the opportunity to go for a joyride, allow the experience of fresh air and the wind in your face to be pure ecstasy, take naps. Stretch before rising, run, romp and play daily. Thrive on attention and let people touch you. Avoid biting when a simple growl will do. On warm days, drink lots of water and lie under a shady tree. When you're happy, dance around and wag your entire body. Delight in the simple joy of a long walk. Be loyal. Never pretend to be something you're not. If what you want lies buried, dig until you find it. When someone is having a bad day., be silent, sit close by, and nuzzle them gently. ENJOY EVERY MOMENT OF EVERY DAY!!!
<![if !supportEmptyParas]> <![endif]>
<![if !vml]>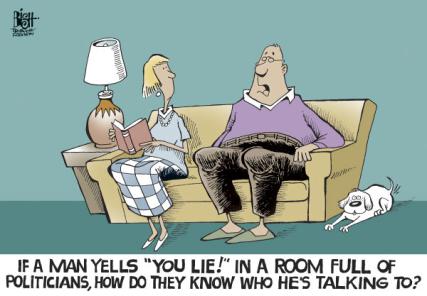 <![endif]>
<![if !supportEmptyParas]> <![endif]>
<![if !supportEmptyParas]> <![endif]>
<![if !supportEmptyParas]> <![endif]>
World History 101

For those of you who slept through World History 101, here is a condensed version.

Humans originally existed as members of small bands of nomadic hunters/gatherers.
They lived on deer in the mountains during the summer and would go to the coast and live on fish and lobster in the winter.

The two most important events in all of history were:
1. The invention of beer, and
2. The invention of the wheel. The wheel was invented to get man to the beer, and the beer to the man.

These facts formed the foundation of modern civilization and together were the catalyst for the splitting of humanity into two distinct subgroups:
1. Liberals
2. Conservatives.

Once beer was discovered, it required grain and that was the beginning of agriculture. Neither the glass bottle nor aluminum can were invented yet, so while our early humans were sitting around waiting for them to be invented, they just stayed close to the brewery. That's how villages were formed.

Some men spent their days tracking and killing animals to BBQ at night while they were drinking beer. This was the beginning of what is known as the Conservative movement.

Other men who were weaker and less skilled at hunting learned to live off the conservatives by showing up for the nightly BBQ's and doing the sewing, fetching, and hair dressing. This was the beginning of the Liberal movement.

Some of these liberal men eventually evolved into women. The rest became known as girlie-men.

Some noteworthy liberal achievements include the domestication of cats, the invention of group therapy and group hugs, the evolution of the Hollywood actor, and the concept of Democratic voting to decide how to divide all the meat and beer that conservatives provided.

Over the years, Conservatives came to be symbolized by the largest, most powerful land animal on earth, the elephant. Liberals are symbolized by the jackass.

Modern liberals like imported beer (with lime added), but most prefer white wine or imported bottled water. They eat raw fish but like their beef well done. Sushi, tofu, and french food are standard liberal fare.
Another interesting evolutionary side note: Most liberal women have higher testosterone levels than their men. Most social workers, personal injury attorneys, journalists, dreamers in Hollywood and group therapists are liberals.

Conservatives drink domestic beer. They eat red meat and still provide for their women. Conservatives are big-game hunters, rodeo cowboys, firemen, lumberjacks, construction workers, medical doctors, police officers, corporate executives, athletes, Soldiers, Marines, Sailors and generally anyone who works productively. Conservatives who own companies hire other conservatives who want to work for a living.

Liberals produce little or nothing. They like to govern the producers and decide what to do with the production. Liberals believe Europeans are more enlightened than Americans. That is why most of the liberals remained in Europe when conservatives were coming to America. They crept in after the Wild West was tamed and created a business of trying to get more for nothing.

Here ends today's lesson in world history.

A TAXPAYER VOTING FOR OBAMA IS LIKE A CHICKEN VOTING FOR COLONEL SANDERS.

U.S. Navy Bomb Squad
"Do it once, Do it right"
"No arsenal, no weapon in the arsenals of the world, is so formidable as the will and moral courage of free men and women."




-- Ronald Reagan
<![if !supportEmptyParas]> <![endif]>
<![if !supportEmptyParas]> <![endif]>
<![if !supportEmptyParas]> <![endif]>
This is the kind of story – a tribute, really. What an ending - unreal.
<![if !supportEmptyParas]> <![endif]>
<![if !supportEmptyParas]> <![endif]>
<![if !supportEmptyParas]> <![endif]>
This is the one of the best presentations of the sixties that I have ever seen online. It is very well done. Just click on the link and sit back and enjoy the memories. Great photos and facts.
<![if !supportEmptyParas]> <![endif]>
<![if !supportEmptyParas]> <![endif]>
According to the United States Code, Title 36, Chapter 10, Sec. 171, "During
rendition of the national anthem when the flag is displayed, all present
except those in uniform are expected to stand at attention facing the flag
with the right hand over the heart."

Hot on the heels of his explanation for why he no longer wears a flag pin,
presidential candidate Senator Barack Hussein Obama was forced to explain
why he doesn't follow protocol when the National Anthem is played.

"As I've said about the flag pin, I don't want to be perceived as taking
sides," - Barack Hussein Obama

Obama went on to say "There are a lot of people in the world to whom the
American flag is a symbol of oppression. And the anthem itself conveys a
war-like message. You know, the bombs bursting in air and all. It should be
swapped for something less parochial and less bellicose. I like the song
'I'd Like to Teach the World to Sing.' If that were our anthem, then I might
salute it."

And finally, on the subject of his church, Senator said "I don't think my
church is actually particularly controversial.". .
~~~
This is pretty good.  Just go to the site below and enter your zip code, and it tells you which gas stations have the cheapest prices, (and the highest) on gasoline in your zip code area.  It's updated every evening.
<![if !supportEmptyParas]> <![endif]>
~~~
<![if !supportEmptyParas]> <![endif]>
Know your landmarks – this is a fun quiz.
<![if !supportEmptyParas]> <![endif]>
~~~
This is an interesting survey on knowing your current events.
<![if !supportEmptyParas]> <![endif]>
~~~
<![if !supportEmptyParas]> <![endif]>
At least the second time around but well worth another listen.
<![if !supportEmptyParas]> <![endif]>
<![if !supportEmptyParas]> <![endif]>
Malachi 3:3 says: "He will sit as a refiner and purifier of silver."

This verse puzzled some women in a Bible study and they wondered what this statement meant about the character and nature of God.

One of the women offered to find out the process of refining silver and get back to the group at their next Bible Study.

That week, the woman called a silversmith and made an appointment to watch him at work. She didn't mention anything about the reason for her interest beyond her curiosity about the process of refining Silver.

As she watched the silversmith, he held a piece of silver over the fire and let it heat up. He explained that in refining silver, one needed to hold the silver in the middle of the fire where the flames were hottest so as to burn away all the impurities.

The woman thought about God holding us in such a hot spot; then she thought again about the verse that says: "He sits as a refiner and purifier of silver." She asked the silversmith if it was true that he had to sit there in front of the fire the whole time the silver was being refined.

The man answered that he not only had to sit there holding the silver, but he had to keep his eyes on the silver the entire time it was in the fire. If the silver was left a moment too long in the flames, it would be destroyed.

The woman was silent for a moment. Then she asked the silversmith, "How do you know when the silver is fully refined?"
He smiled at her and answered,
"Oh, that's easy," "When I see my image in it."

If today you are feeling the heat of the fire, remember that God has his eye on you and will keep watching you until He sees His image in you.

This very moment, someone needs to know that God is watching over them. And, whatever they're going through, they'll be a better person in the end.

"Life is a coin. You can spend it any way you wish, but you can only spend it once."
<![if !supportEmptyParas]> <![endif]>
<![if !supportEmptyParas]> <![endif]>
This is one of the best explanations of why God allows pain and suffering that I have seen...

A man went to a barbershop to have his hair cut and his beard trimmed.
As the barber began to work, they began to have a good conversation.
They talked about so many things and various subjects.
When they eventually touched on the subject of God, the barber said:
'I don't believe that God exists.'

'Why do you say that?' asked the customer. 'Well, you just have to go out in the street to realize that God doesn't exist.
Tell me, if God exists, would there be so many sick people?
Would there be abandoned children?

If God existed, there would be neither suffering nor pain.
I can't imagine a loving God who would allow all of these things.'
The customer thought for a moment, but didn't respond because he didn't want to start an argument.
The barber finished his job and the customer left the shop.

Just after he left the barbershop, he saw a man in the street with long, stringy, dirty hair and an untrimmed beard.
He looked dirty and unkempt. The customer turned back and entered the barbershop again and he said to the barber:
'You know what? Barbers do not exist.'
'How can you say that?' asked the surprised barber.
'I am here, and I am a barber. And I just worked on you!'
'No!' the customer exclaimed. 'Barbers don't exist because
if they did, there would be no people with dirty long hair and untrimmed beards, like that man outside.'

'Ah, but barbers DO exist! That's what happens when people do not come to me.'
'Exactly!' affirmed the customer. 'That's the point! God, too, DOES exist!
<![if !supportLineBreakNewLine]>
<![endif]>
That's what happens when people do not go to Him and don't look to Him for help.
That's why there's so much pain and suffering in the world.'
<![if !supportLineBreakNewLine]>
<![endif]>
<![if !supportEmptyParas]> <![endif]>
KILROY WAS HERE!

In 1946 the American Transit Association, through its radio program, "Speak to America," sponsored a nationwide contest to find the REAL Kilroy, offering a prize of a real trolley car to the person who could
prove himself to be the genuine article.

Almost 40 men stepped forward to make that claim, but only James Kilroy from Halifax, Massachusetts had evidence of his identity.

Kilroy was a 46-year old shipyard worker during the war. He worked as a checker at the Fore River Shipyard in Quincy. His job was to go around and check on the number of rivets completed. Riveters were on piecework and got paid by the rivet.

Kilroy would count a block of rivets and put a check mark in semi-waxed lumber chalk, so the rivets wouldn't be counted twice. When Kilroy went off duty, the riveters would erase the mark.

Later on, an off-shift inspector would come through and count the rivets a second time, resulting in double pay for the riveters.

One day Kilroy's boss called him into his office. The foreman was upset about all the wages being paid to riveters, and asked him to investigate. It was then that he realized what had been going on.

The tight spaces he had to crawl in to check the rivets didn't lend themselves to lugging around a paint can and brush, so Kilroy decided to stick with the waxy chalk. He continued to put his checkmark on each job he inspected, but added KILROY WAS HERE in king-sized letters next to the check, and eventually added the sketch of the chap with the long nose peering over the fence and that became part of the Kilroy message. Once he did that, the riveters stopped trying to wipe away his marks.

Ordinarily the rivets and chalk marks would have been covered up with paint. With war on, however, ships were leaving the Quincy Yard so fast that there wasn't time to paint them.

As a result, Kilroy's inspection "trademark" was seen by thousands of servicemen who boarded the troopships the yard produced. His message apparently rang a bell with the servicemen, because they picked it up and spread it all over Europe and the South Pacific. Before the war's end, "Kilroy" had been here, there, and everywhere on the long haul to Berlin and Tokyo.

To the unfortunate troops outbound in those ships, however, he was a complete mystery; all they knew for sure was that some jerk named Kilroy had "been there first." As a joke, U.S. servicemen began placing the graffiti wherever they landed, claiming it was already there when they arrived.

Kilroy became the U.S. super-GI who had always "already been" wherever GIs went. It became a challenge to place the logo in the most unlikely places imaginable (it is said to be atop Mt. Everest, the Statue of Liberty, the underside of the Arch De Triumphe, and even scrawled in the dust on the moon.)

And as the war went on, the legend grew. Underwater demolition teams routinely sneaked ashore on Japanese-held islands in the Pacific to map the terrain for the coming invasions by U.S. troops (and thus, presumably, were the first GI's there). On one occasion, however, they reported seeing enemy troops painting over the Kilroy logo! In 1945, an outhouse was built for the exclusive use of Roosevelt, Stalin, and
Churchill at the Potsdam conference.

The first person inside was Stalin, who emerged and asked his aide (in Russian), "Who is Kilroy?" ...

To help prove his authenticity in 1946, James Kilroy brought along officials from the shipyard and some of the riveters. He won the trolley car, which he gave to his nine children as a Christmas gift and set it up as a playhouse in the Kilroy front yard in Halifax, Massachusetts.
<![if !vml]>

<![endif]>
<![if !supportEmptyParas]> <![endif]>
More great links from Alan;
<![if !supportEmptyParas]> <![endif]>
<![if !supportEmptyParas]> <![endif]>
Interesting interactive link about the "Great Escape" Harry Tunnel.
<![if !supportEmptyParas]> <![endif]>
<![if !supportEmptyParas]> <![endif]>
Link to a very neat jukebox site.
<![if !supportEmptyParas]> <![endif]>
 Quiz
<![if !supportEmptyParas]> <![endif]>
Game
<![if !supportEmptyParas]> <![endif]>
<![if !supportEmptyParas]> <![endif]>
Meaning of the Flag Draped Coffin.

All Americans should be given this lesson. Those who think that America is an arrogant nation should really reconsider that thought. Our founding fathers used GOD's word and teachings to establish our Great Nation and I think it's high time Americans get re-educated about this Nation's history. Pass it along and be proud of the country we live in and even more proud of those who serve to protect our "GOD GIVEN" rights and freedoms.
---
To understand what the flag draped coffin really means...... Here is how to understand the flag that laid upon it and is surrendered to so many widows and widowers.

Do you know that at military funerals, the 21-gun salute stands for the sum of the numbers in the year 1776?
<![if !supportEmptyParas]> <![endif]>
Have you ever noticed the honor guard pays meticulous attention to correctly folding the United States of America Flag 13 times? You probably thought it was to symbolize the original 13 colonies, but we learn something new every day!

The 1st fold of the flag is a symbol of life .
<![if !supportEmptyParas]> <![endif]>
The 2nd fold is a symbol of the belief in eternal life
<![if !supportEmptyParas]> <![endif]>
The 3rd fold is made in honor and remembrance of the veterans departing the ranks who gave a portion of their lives for the defense of the country to attain peace throughout the world.
<![if !supportEmptyParas]> <![endif]>
The 4th fold represents the weaker nature , for as American citizens trusting in God, it is to Him we turn in times of peace as well as in time of war for His divine guidance.
<![if !supportEmptyParas]> <![endif]>
The 5th fold is a tribute to the country, for in the words of Stephen Decatur, "Our Country, in dealing with other countries, may she always be right; but it is still our country, right or wrong."
<![if !supportEmptyParas]> <![endif]>
The 6th fold is for where people's hearts lie. It is with their heart that They pledge allegiance to the flag of the United States Of America, and the Republic for which it stands, one Nation under God, indivisible, with Liberty and Justice for all.

The 7th fold is a tribute to its Armed Forces, for it is through the Armed Forces that they protect their country and their flag against all her enemies, whether they be found within or without the boundaries of their republic.
<![if !supportEmptyParas]> <![endif]>
The 8th fold is a tribute to the one who entered into the valley of the shadow of death , that we might see the light of day.
<![if !supportEmptyParas]> <![endif]>
<![if !supportEmptyParas]> <![endif]>
The 9th fold is a tribute to womanhood, and Mothers. For it has been through their faith, their love, loyalty and devotion that the character of the men and women who have made this country great has been molded.

The 10th fold is a tribute to the father, for he, too, has given his sons and daughters for the defense of their country since they were first born.
<![if !supportEmptyParas]> <![endif]>
The 11th fold represents the lower portion of the seal of King David and King Solomon and glorifies in the Hebrews eyes, the God of Abraham, Isaac and Jacob.
<![if !supportEmptyParas]> <![endif]>
The 12th fold represents an emblem of eternity and glorifies, in the Christians eyes, God the Father, the Son and Holy Spirit.
<![if !supportEmptyParas]> <![endif]>
The 13th fold, or when the flag is completely folded, the stars are uppermost reminding them of their nations motto, "In God We Trust."
<![if !supportEmptyParas]> <![endif]>
After the flag is completely folded and tucked in , it takes on the appearance of a cocked hat, ever reminding us of the soldiers who served under General George Washington, and the Sailors and Marines who served under Captain John Paul Jones , who were followed by their comrades and shipmates in the Armed Forces of the United States, preserving for them the rights, privileges and freedoms they enjoy today .

There are some traditions and ways of doing things that have deep meaning. In the future, you'll see flags folded and now you will know why.
<![if !supportLineBreakNewLine]>
<![endif]>
<![if !supportEmptyParas]> <![endif]>
<![if !supportEmptyParas]> <![endif]>
Author unknown on this one – Some attribute it to a housewife in New Jersey, but the message is certainly clear and deserves to be reiterated.
<![if !supportEmptyParas]> <![endif]>
"Are we fighting a war on terror or aren't we? Was it or was it not started by Islamic people who brought it to our shores on September 11, 2001?
Were people from all over the world, mostly Americans, not brutally murdered that day, in downtown Manhattan , across the Potomac from our
nation's capitol and in a field in Pennsylvania?
Did nearly three thousand men, women and children die a horrible, burning or crushing death that day, or didn't they?
And I'm supposed to care that a copy of the Koran was "desecrated" when an overworked American soldier kicked it or got it wet?...Well, I don't.
I don't care at all.
I'll start caring when Osama bin Laden turns himself in and repents for incinerating all those innocent people on 9/11.
I'll care about the Koran when the fanatics in the Middle East start caring about the Holy Bible, the mere possession of which is a crime in
Saudi Arabia ..
I'll care when these thugs tell the world they are sorry for hacking off Nick Berg's head while Berg screamed through his gurgling slashed throat.
I'll care when the cowardly so-called "insurgents" in Iraq come out and fight like men instead of disrespecting their own religion by hiding in
mosques.
I'll care when the mindless zealots who blow themselves up in search of nirvana care about the innocent children within range of their suicide
bombs.
I'll care when the American media stops pretending that their First Amendment liberties are somehow derived from international law instead of the United States Constitution's Bill of Rights.
In the meantime, when I hear a story about a brave marine roughing up an Iraqi terrorist to obtain information, know this: I don't care.
When I see a fuzzy photo of a pile of naked Iraqi prisoners who have been humiliated in what amounts to a college-hazing incident, rest assured: I don't care.
When I see a wounded terrorist get shot in the head when he is told not to move because he might be booby-trapped, you can take it to the bank:
I don't care.
When I hear that a prisoner, who was issued a Koran and a prayer mat, and fed "special" food that is paid for by my tax dollars, is complaining that his holy book is being "mishandled," you can absolutely
believe in your heart of hearts: I don't care.
And oh, by the way, I've noticed that sometimes it's spelled "Koran" and other times "Quran." Well, Jimmy Crack Corn and-you guessed it-I don't
care !!
And may I add:
"Some people spend an entire lifetime wondering if they made a difference in the world. But, the Marines don't have that problem" --
Ronald Reagan
<![if !supportEmptyParas]> <![endif]>
"If we ever forget that we're One Nation Under God, then we will be a nation gone under."
Also by.. Ronald Reagan
One last thought for the day:
<![if !supportEmptyParas]> <![endif]>
In case we find ourselves starting to believe all the Anti-American
sentiment and negativity, we should remember England 's Prime Minister Tony Blair's words during a recent interview. When asked by one of his
Parliament members why he believes so much in America, he said: "A simple way to take measure of a country is to look at how many want in..
And how many want out."
<![if !supportEmptyParas]> <![endif]>
<![if !supportEmptyParas]> <![endif]>
If you're ever in a conversation where someone is criticizing America's
involvement in world affair's, here are a few examples that you could cite
to counter those sentiments:

When in England at a fairly large conference, Colin Powell was asked by the
Archbishop of Canterbury if our plans for Iraq were just an example of empire building by George Bush.
He answered by saying, "Over the years, the United States has sent many of its fine young men and women into great peril to fight for freedom beyond
our borders. The only amount of land we have ever asked for in return is enough to bury those that did not return.

It became very quiet in the room.

Then there was a conference in France where a number of international engineers were taking part, including French and American. During a break
one of the French engineers came back into the room saying, "Have you heard the latest dumb stunt Bush has done? He has sent an aircraft carrier to Indonesia to help the tsunami victims. What does he intend to do, bomb them?"
A Boeing engineer stood up and replied quietly, "Our carriers have three hospitals on board that can treat several hundred people; they are nuclear powered and can supply emergency electrical power to shore
facilities; they have three cafeterias with the capacity to feed 5,000 people three meals a day; they can produce several thousand gallons of fresh water from sea water each day; and they carry half a dozen helicopters for use in transporting victims and injured to and from their flight deck. We have eleven such ships. How many does France have?"

Once again, dead silence.

A U.S. Navy Admiral was attending a naval conference that included Admirals from the U.S., English, Canadian, Australian and French Navies.
At a cocktail reception, he found himself standing with a large group of officers that included personnel from most of those countries. Everyone was chatting away in English. As they sipped their drinks, a French admiral suddenly complained that, "Whereas Europeans learn many languages, Americans learn only English."
He then asked, "Why is it that we always have to speak English in these conferences rather than speaking French?" Without hesitating, the
American Admiral replied, "Maybe it's because the Brits, Canadians, Aussies and Americans arranged it so you wouldn't have to speak German."

You could have heard a pin drop
AND THIS STORY FITS RIGHT IN WITH THE ABOVE...

A group of Americans, retired teachers, recently went to France on a tour. Robert Whiting, an elderly gentleman of 83, arrived in Paris by plane. At French Customs, he took a few minutes to locate his passport in his carry-on. "You have been to France before, monsieur?" the customs officer asked sarcastically. Mr. Whiting admitted that he had been to France
previously.
"Then you should know enough to have your passport ready."
The American said, "The last time I was here, I didn't have to show it."
"Impossible. Americans always have to show your passports on arrival in France!"
The American senior gave the Frenchman a long, hard look. Then he quietly
explained, "Well, when I came ashore at Omaha Beach on D-Day in '44 to help liberate this country, I couldn't find any damn Frenchmen to show it to."

There was no reply!
<![if !supportEmptyParas]> <![endif]>
<![if !supportEmptyParas]> <![endif]>
VERY HELPFUL Hints
DID YOU KNOW?

Peel a banana from the bottom and you won't have to pick the little "stringy things" off of it. That's how the primates do it.

Take your bananas apart when you get home from the store. If you leave them connected at the stem, they ripen faster.

Store your opened chunks of cheese in aluminum foil. It will stay fresh much longer and not mold!

Peppers with 3 bumps on the bottom are sweeter and better for eating.
Peppers with 4 bumps on the bottom are firmer and better for cooking.

Add a teaspoon of water when frying ground beef. It will help pull the grease away from the meat while cooking.

To really make scrambled eggs or omelets rich add a couple of spoonfuls of sour cream, cream cheese, or heavy cream in and then beat them up.

For a cool brownie treat, make brownies as directed. Melt Andes mints in double broiler and pour over warm brownies. Let set for a wonderful minty frosting.

Add garlic immediately to a recipe if you want a light taste of garlic and at the end of the recipe if your want a stronger taste of garlic.

Leftover snickers bars from Halloween make a delicious dessert. Simply chop them up with the food chopper. Peel, core and slice a few apples. Place them in a baking dish and sprinkle the chopped candy bars over the apples. Bake at 350 for 15 minutes!!! Serve alone or with vanilla ice cream.

1. Reheat Pizza
Heat up leftover pizza in a nonstick skillet on top of the stove, set heat to med-low and heat till warm. This keeps the crust crispy. No soggy micro pizza. I saw this on the cooking channel and it really works.

2. Easy Deviled Eggs
Put cooked egg yolks in a zip lock bag. Seal, mash till they are all broken up. Add remainder of ingredients, reseal, keep mashing it up mixing thoroughly, cut the tip of the baggy, squeeze mixture into egg.  Just throw bag away when done easy clean up.

3. Expanding Frosting
When you buy a container of cake frosting from the store, whip it with your mixer for a few minutes. You can double it in size. You get to frost more cake/cupcakes with the same amount. You also eat less sugar and calories per serving.

4. Reheating refrigerated bread
To warm biscuits, pancakes, or muffins that were refrigerated, place them in a microwave with a cup of water. The increased moisture will keep the food moist and help it reheat faster.

5. Newspaper weeds away
Start putting in your plants, work the nutrients in your soil. Wet newspapers put layers around the plants overlapping as you go cover with mulch and forget about weeds. Weeds will get through some gardening plastic they will not get through wet newspapers.

6. Broken Glass
Use a wet cotton ball or Q-tip to pick up the small shards of glass you can't see easily.

7. No More Mosquitoes
Place a dryer sheet in your pocket. It will keep the mosquitoes away.

8. Squirrel Away!
To keep squirrels from eating your plants sprinkle your plants with cayenne pepper. The cayenne pepper doesn't hurt the plant and the squirrels won't come near it.

9. Flexible vacuum
To get something out of a heat register or under the fridge add an empty paper towel roll or empty gift wrap roll to your vacuum. It can be bent or flattened to get in narrow openings.

10. Reducing Static Cling
Pin a small safety pin to the seam of your slip and you will not have a clingy skirt or dress. Same thing works with slacks that cling when wearing panty hose. Place pin in seam of slacks and -- ta da! – static is gone.

11. Measuring Cups
Before you pour sticky substances into a measuring cup, fill with hot water. Dump out the hot water, but don't dry cup. Next, add your ingredient, such as peanut butter, and watch how easily it comes right out.

12. Foggy Windshield?
Hate foggy windshields? Buy a chalkboard eraser and keep it in the glove box of your car. When the windows fog, rub with the eraser! Works better than a cloth!

13. Reopening envelope
If you seal an envelope and then realize you forgot to include something inside, just place your sealed envelope in the freezer for an hour or two. Viola! It unseals easily.

14. Conditioner
Use your hair conditioner to shave your legs. It's cheaper than shaving cream and leaves your legs really smooth. It's also a great way to use up the conditioner you bought but didn't like when you tried it in your hair...

15. Goodbye Fruit Flies
To get rid of pesky fruit flies, take a small glass fill it 1/2" with Apple Cider Vinegar and 2 drops of dish washing liquid, mix well. You will find those flies drawn to the cup and gone forever!

16. Get Rid of Ants
Put small piles of cornmeal where you see ants. They eat it, take it "home," can't digest it so it kills them. It may take a week or so, especially if it rains, but it works & you don't have the worry about pets or small children being harmed!

17. INFO ABOUT CLOTHES DRYERS
The heating unit went out on the dryer! The gentleman that fixes things around the house for us told us that he wanted to show us something and he went over to the dryer and pulled out the lint filter. It was clean. (I always clean the lint from the filter after every load clothes.) He told us that he wanted to show us something; he took the filter over to the sink, ran hot water over it. The lint filter is made of a mesh material - I'm sure you know what your dryer's lint filter looks like. Well,...the hot water just sat on top of the mesh! It didn't go through it at all! He told us that dryer sheets cause a film over that mesh that's what burns out the heating unit. You can't SEE the film, but it's there. It's what is in the dryer sheets to make your clothes soft and static free -- that nice fragrance too, you know how they can feel waxy when you take them out of the box, well t his stuff builds up on your clothes and on your lint screen. This is also what causes dryer units to catch fire & potentially burn your house down with it! He said the best way to keep your dryer working for a very long time (& to keep your electric bill lower) is to take that filter out & wash it with hot soapy water & an old toothbrush (or other brush) at least every six months. He said that makes the life of the dryer at least twice as long! How about that!?! Learn something new everyday! I certainly didn't know dryer sheets would do that. So, I thought I'd share!
<![if !supportEmptyParas]> <![endif]>
<![if !supportEmptyParas]> <![endif]>
General Vo Nguyen Giap
General Giap was a brilliant, highly respected leader of the North Vietnam military. The following quote is from his memoirs currently found in the Vietnam war memorial in Hanoi:
<![if !supportEmptyParas]> <![endif]>
"What we still don't understand is why you Americans stopped the bombing of Hanoi. You had us on the ropes. If you had pressed us a little harder, just for another day or two, we were ready to surrender! It was the same at the battles of TET. You defeated us! We knew it, and we thought you knew it. But we were elated to notice your media was definitely helping us. They were causing more disruption in America than we could in the battlefields. We were ready to surrender. You had won!"
<![if !supportEmptyParas]> <![endif]>
General Giap has published his memoirs and confirmed what most Americans knew. The Vietnam war was not lost in Vietnam -- it was lost at home. The exact same slippery slope, sponsored by the US media, is currently well underway. It exposes the enormous power of a biased media to cut out the heart and will of the American public.
<![if !supportEmptyParas]> <![endif]>
A truism worthy of note: Do not fear the enemy, for they can take only your life. Fear the media far more, for they will destroy your honor.
<![if !supportEmptyParas]> <![endif]>
~~~
<![if !supportEmptyParas]> <![endif]>
These comments were taken off police car videos around the country.
16 "You know, stop lights don't come any redder than the one you just went through."
15 "Relax, the handcuffs are tight because they're new. They'll stretch after you wear them a while."
14 "If you take your hands off the car, I'll make your birth certificate a worthless document."
13 "If you run, you'll only go to jail tired."
12 "Can you run faster than 1200 feet per second? Because that's the speed of the bullet that'll be chasing you."
11 "You don't know how fast you were going? I guess that means I can write anything I want to on the ticket, huh?"
10 "Yes, sir, you can talk to the shift supervisor, but I don't think it will help. Oh, did I mention that I'm the shift supervisor?"
9 "Warning! You want a warning? OKAY, I'm warning you not to do that again or I'll give you another ticket."
8 "The answer to this last question will determine whether you are drunk or not. Was Mickey Mouse a cat or a dog?"
7 "Fair? You want me to be fair? Listen, fair is a place where you go to ride on rides, eat cotton candy and corn dogs and step in monkey poop."
6 "Yeah, we have a quota. Two more tickets and my wife gets a toaster oven."
5 "In God we trust, all others we run through NCIC."
4 "How big were those 'two beers' you say you had?"
3 "No sir, we don't have quotas anymore. We used to, but now we're allowed to write as many tickets as we can."
2 "I'm glad to hear that the Chief (of Police) is a personal friend of yours. So you know someone who can post your bail."
AND THE WINNER IS.... 1 "You didn't think we give pretty women tickets? You're right, we don't. Sign here.
<![if !supportEmptyParas]> <![endif]>
<![if !supportEmptyParas]> <![endif]>
For interesting commentary on hunting and protecting our rights, Alan suggests a visit to this site:
<![if !supportEmptyParas]> <![endif]>
This is another Fun Site that is very interesting. It tells how many people in the United States have the same first and last name as you.
<![if !supportLineBreakNewLine]>
<![endif]>
<![if !supportEmptyParas]> <![endif]>
A most unusual story.

Charlie Brown was a B-17 Flying Fortress pilot with the 379th Bomber Group at Kimbolton, England . His B-17 was called 'Ye Old Pub' and was in a terrible state, having been hit by flak and fighters. The compass was damaged and they were flying deeper over enemy territory instead of heading home to Kimbolton.

After flying over an enemy airfield, a German pilot named Franz Steigler was ordered to take off and shoot down the B-17. When he got near the B-17, he could not believe his eyes. In his words, he 'had never seen a plane in such a bad state'. The tail and rear section was severely damaged, and the tail gunner wounded. The top gunner was all over the top of the fuselage. The nose was smashed and there were holes everywhere.

Despite having ammunition, Franz flew to the side of the B-17 and looked at Charlie Brown, the pilot. Brown was scared and struggling to control his damaged and blood-stained plane. Aware that they had no idea where they were going, Franz waved at Charlie to turn 180 degrees. Franz escorted and guided the stricken plane to and slightly over the North Sea towards England He then saluted Charlie Brown and turned away, back to Europe.

When Franz landed he told the C/O that the plane had been shot down over the sea, and never told the truth to anybody. Charlie Brown and the remains of his crew told all at their briefing, but were ordered never to talk about it.

More than 40 years later, Charlie Brown wanted to find the Luftwaffe pilot who saved the crew. After years of research, Franz was found. He had never talked about the incident, not even at post-war reunions. They met in the USA at a 379th. Bomber Group reunion, together with 25 people who are alive now - all because Franz never fired his guns that day.

Research shows that Charlie Brown lived in Seattle and Franz Steigler had moved to Vancouver, BC after the war. When they finally met, they discovered they had lived less than 200 miles apart for the past 50 years.
``````
2008 Contract
<![if !supportEmptyParas]> <![endif]>
After serious and cautious consideration, your contract of friendship has been renewed for the New Year 2008.
<![if !supportEmptyParas]> <![endif]>
It was a very hard decision to make, so try not to screw it up!
<![if !supportEmptyParas]> <![endif]>
My Wish For You In 2008:
<![if !supportEmptyParas]> <![endif]>
May peace break into your house and may thieves come to steal your debts.
<![if !supportEmptyParas]> <![endif]>
May the pockets of your jeans become the magnet of $100 bills.
<![if !supportEmptyParas]> <![endif]>
May love stick to your face like Vaseline, and may laughter assault your lips.
<![if !supportEmptyParas]> <![endif]>
May your clothes smell of success like smoking tires, and may happiness slap you across the face, and may your tears be those of joy.
<![if !supportEmptyParas]> <![endif]>
May the problems you had forget your home address.
<![if !supportEmptyParas]> <![endif]>
In simple words . . .
<![if !supportEmptyParas]> <![endif]>
May 2008 be the best year of your life!
<![if !supportEmptyParas]> <![endif]>
AMEN, Alan, and God Bless!
DebV
<![if !supportEmptyParas]> <![endif]>
<![if !supportEmptyParas]> <![endif]>
Sheep, Wolves and Sheepdogs

This letter was written by Charles Grennel and his comrades, veterans of the Global War On Terror. Grennel is an Army Reservist who spent two years in Iraq and was a principal in putting together the first Iraq elections in January 2005. They wrote it to Jill Edwards, student at the University of Washington, who did not want to honor Medal of Honor winner USMC Colonel Greg ( PAPPY ) Boyington. Ms. Edwards, other students and faculty do not  think those who serve in the U.S. armed services are good role models.

To: Jill Edwards, Student, University of Washington
Subject: Sheep, Wolves and Sheepdogs

Miss Edwards,

I read of your student activity regarding the proposed memorial to Colonel Greg Boyington, USMC and a Medal of Honor winner. I suspect you will receive many angry emails from conservative people
like me. You may be too young to appreciate fully the sacrifices of generations of servicemen and servicewomen on whose shoulders you and your fellow students stand. I forgive you for the untutored ways of youth and your naiveté. It may be that you are simply a sheep. There's no dishonor in being a sheep, as long as you know and accept what you are.

William J. Bennett, in a lecture to the United States Naval Academy November 24, 1997 said " Most of the people in our society are sheep. They are kind, gentle, productive creatures who can only hurt one another by accident. We may well be in the most violent times in history, but violence is still remarkably rare. This is because most citizens are kind, decent people, not capable of hurting each other except by accident or under extreme provocation. They are sheep.

Then there are the wolves who feed on the sheep without mercy. Do you believe there are wolves out there who will feed on the flock without mercy? You better believe it. There are evil men in this world and they are capable of evil deeds. The moment you forget that or pretend it is not so, you become a sheep. There is no safety in denial.

Then there are sheepdogs and I'm a sheepdog. I live to protect the flock and confront the wolf. If you have no capacity for violence then you are a healthy productive citizen, a sheep. If one has a capacity for violence and no empathy for one's fellow citizens, then you have defined an aggressive sociopath, a wolf. But what if you have a capacity for violence, and a deep love for your fellow citizens? What do you have then? A sheepdog, a warrior, someone who is walking the unsheltered path. Someone who can walk into the heart of darkness, into the universal human phobia, and walk out unscathed.

We know that the sheep live in denial; that is what makes them sheep. They do not want to believe that there is evil in the world. They can accept the fact that fires can happen, which is why they want fire extinguishers, fire sprinklers, fire alarms and fire exits throughout their kid's schools. But many of them are outraged at the idea of putting an armed police officer in their kid's school. Our children are thousands of times more likely to be killed or seriously injured by school violence than fire, but the sheep's only response to the possibility of violence is denial. The idea of someone coming to kill or harm their child is just too hard. So they choose the path of denial.

The sheep generally do not like the sheepdog. He looks a lot like the wolf. He has fangs and the capacity for violence. The difference, though, is that the sheepdog must not, cannot and will not ever harm the sheep. Any sheepdog that intentionally harms the lowliest little lamb will be punished and removed. The world cannot work any other way, at least not in a representative democracy or a republic such as ours. Still, the sheepdog disturbs the sheep. He is a constant reminder that there are wolves in the land. They would prefer that he didn't tell them where to go, or give them traffic tickets, or stand at the ready in our airports, in camouflage fatigues, holding an M-16. The sheep would much rather have the sheepdog cash in his fangs, spray paint himself white, and go "Baa." Until the wolf shows up. Then the entire flock tries desperately to hide behind one lonely sheepdog.

The students, the victims, at Columbine High School were big, tough high school students, and under ordinary circumstances would not have had the time of day for a police officer. They were not bad kids; they just had nothing to say to a cop. When the school was under attack, however, and SWAT teams were clearing the rooms and hallways, the officers had to physically peel those clinging, sobbing kids off of them.

This is how the little lambs feel about their sheepdog when the wolf is at the door. Look at what happened after September 11, 2001 when the wolf pounded hard on the door. Remember how America , more than ever before, felt differently about their law enforcement officers and military personnel?
<![if !supportLineBreakNewLine]>
<![endif]>
Understand that there is nothing morally superior about being a sheepdog; it is just what you choose to be.

Also understand that a sheepdog is a funny critter. He is always sniffing around out on the perimeter, checking the breeze, barking at things that go bump in the night and yearning for a righteous battle. That is, the young sheepdogs yearn for a righteous battle. The old sheepdogs are a little older and wiser, but they move to the sound of the guns when needed, right along with the young ones.

Here is how the sheep and the sheepdog think differently. The sheep pretend the wolf will never come, but the sheepdog lives for that day.

After the attacks on September 11, 2001, most of the sheep, that is, most citizens in America said "Thank God I wasn't on one of those planes." The sheepdogs, the warriors, said "Dear God, I wish I could have been on one of those planes. Maybe I could have made a difference." You want to be able to make a difference. There is nothing morally superior about the sheepdog, the warrior, but he does have one real advantage. Only one. And that is that he is able to survive and thrive in an environment that would destroy 98-percent of the population.

Research was conducted a few years ago with individuals convicted of violent crimes. These cons were in prison for serious, predatory crimes of violence: assaults, murders and killing law enforcement officers. The vast majority said they specifically targeted victims by body language:
Slumped walk, passive behavior and lack of awareness. They chose their victims like big cats do in Africa, when they select one out of the herd that is least able to protect itself.

Some people may be destined to be sheep and others might be genetically primed to be wolves or sheepdogs. But I believe that most people can choose which one they want to be, and I'm proud to say that more and more Americans are choosing to become sheepdogs. 
<![if !supportEmptyParas]> <![endif]>
Sheep, Wolves and Sheepdogs continued:
Seven months after the attack on September 11, 2001, Todd Beamer was honored in his hometown of Cranbury , New Jersey . Todd, as you recall, was the man on Flight 93 over Pennsylvania who called on his cell phone to alert an operator from United Airlines about the hijacking. When they learned of the other three passenger planes that had been used as weapons, Todd and the other passengers confronted the terrorist hijackers. In one hour, a transformation occurred among the passengers -- athletes, business people and parents -- from sheep to sheepdogs and together they fought the wolves, ultimately saving an unknown number of lives on the ground.

Edmund Burke said "There is no safety for honest men except by believing all possible evil of evil men." Here is the point I want to emphasize, especially to the thousands of police officers and soldiers I speak to each year. In nature the sheep, real sheep, are born as sheep. Sheepdogs are born that way, and so are wolves. They don't have a choice. But you are not a critter. As a human being, you can be whatever you want to be. It is a conscious, moral decision. If you want to be a sheep, then you can be a sheep and that is okay, but you must understand the price you pay. When the wolf comes, you and your loved ones are going to die if there is not a sheepdog there to protect you.

If you want to be a wolf, you can be one, but the sheepdogs are going to hunt you down and you will never have rest, safety, trust or love. But if you want to be a sheepdog and walk the warrior's path, then you must make a conscious and moral decision every day to dedicate, equip and prepare yourself to thrive in that toxic, corrosive moment when the wolf comes knocking at the door. This business of being a sheep or a sheepdog is not a "yes-no" dichotomy. It is not an all-or-nothing, either-or choice. It is a matter of degrees, a continuum. On one end is an abject, head-in-the-sand-sheep and on the other end is the ultimate warrior. Few people exist completely on one end or the other. Most of us live somewhere in between.

Since 9-11 almost everyone in America took a step up that continuum, away from denial. The sheep took a few steps toward accepting and appreciating their warriors and the warriors started taking their job more seriously.

It's OK to be a sheep, but do not kick the sheepdog. Indeed, the sheepdog may just run a little harder, strive to protect a little better and be fully prepared to pay an ultimate price in battle and spirit with the sheep moving from "Baa" to "Thanks." We do not call for gifts or freedoms beyond our lot. We just need a small pat on the head, a smile and a thank you to fill the emotional tank which is drained protecting the sheep. And, when our number is called by The Almighty, and day retreats into night, a small prayer before the heavens just may be in order to say thanks for letting you continue to be a sheep. And be grateful for the millions of American sheepdogs who permit you the freedom to express even bad ideas.

"All that is necessary for the triumph of evil is that good men (and women) do nothing" - E. Burke
<![if !supportEmptyParas]> <![endif]>
<![if !supportEmptyParas]> <![endif]>
Pick the correct Penny

Cannot believe how many people did not choose the correct one!
Take a look, and see if you can choose the right penny. No cheating;
do not look at a real penny first- I know you've seen a real one!

See if you can pick the correct one here.
<![if !supportLineBreakNewLine]>
<![endif]>
<![if !supportEmptyParas]> <![endif]>
14 Reasons to Deport Illegal Aliens...


1. $11 Billion to $22 billion is spent on welfare to illegal aliens each year. Source 

2. $2.2 Billion dollars a year is spent on food assistance programs such as food stamps, WIC, and free school lunches for illegal aliens. Source 

3. $2.5 Billion dollars a year is spent on Medicaid for illegal aliens. Source 

4. $12 Billion dollars a year is spent on primary and secondary school education for children here illegally and they cannot speak a word of English! Source 

5. $17 Billion dollars a year is spent for education for the American-born children of illegal aliens, known as anchor babies. Source 

6. $3 Million Dollars a DAY is spent to incarcerate illegal aliens. Source 

7. 30% percent of all Federal Prison inmates are illegal aliens. Source
8. $90 Billion Dollars a year is spent on illegal aliens for Welfare & social services by the American taxpayers. Source

9. $200 Billion Dollars a year in suppressed American wages are caused by the illegal aliens. Source

10. The illegal aliens in the United States have a crime rate that's two and a half times that of white non-illegal aliens. In particular, their children, are going to make a huge additional crime problem in the United States . Source

11. During the year of 2005 there were 4 to 10 MILLION illegal aliens that crossed our Southern Border also, as many as 19,500 illegal aliens from Terrorist Countries. Millions of pounds of drugs, cocaine, meth, heroine and marijuana, crossed into the U. S. from the Southern border. Homeland Security Report: Source

12. The National Policy Institute, "estimated that the total cost of mass deportation would be between $206 and $230 billion or an average cost of between $41 and $46 billion annually over a five year period." Source

13. In 2006 illegal aliens sent home $45 BILLION in remittances back to their countries of origin. Source

14. "The Dark Side of Illegal Immigration: Nearly One Million Sex Crimes Committed by Illegal Immigrants In The United States ". Source


So using the LOWEST estimates, the annual cost OF ILLEGAL ALIENS is $338.3 BILLION DOLLARS A YEAR! So if deporting them costs between $206 and $230 BILLION DOLLARS, Hell get rid of em', We'll be ahead after the 1st year!!!
<![if !supportEmptyParas]> <![endif]>
<![if !supportEmptyParas]> <![endif]>
If you can start the day without caffeine,
If you can get going without pep pills,
If you can always be cheerful, ignoring aches and pains,
If you can resist complaining and boring people with your troubles,
If you can eat the same food every day and be grateful for it,
If you can understand when your loved ones are too busy to give you any time,
If you can take criticism and blame without resentment
If you can ignore a friend's limited education and never correct him,
If you can resist treating a rich friend better than a poor friend,
If you can conquer tension without medical help,
If you can relax without liquor,
If you can sleep without the aid of drugs,

...Then You Are Probably The Family Dog!
<![if !supportEmptyParas]> <![endif]>
<![if !supportEmptyParas]> <![endif]>
Cemetery Escort Duty

I just wanted to get the day over with and go down to Smokey's for a few cold ones. Sneaking a look at my watch, I saw the time, 16:55. Five minutes to go before the cemetery gates are closed for the day. Full dress was hot in the August sun. Oklahoma summertime was as bad as ever - the heat and humidity at the same level -- both too high.

I saw the car pull into the drive, '69 or '70 model Cadillac Deville, looked factory-new. It pulled into the parking lot at a snail's pace.

An old woman got out so slowly, I thought she was paralyzed. She had a cane and a sheaf of flowers, about four or five bunches as best I could tell.
I couldn't help myself. The thought came unwanted, and left a slightly bitter taste: "She's going to spend an hour, and for this old soldier, my hip hurts
like hell and I'm ready to get out of here right now!"

But for this day, my duty was to assist anyone coming in. Kevin would lock the "In" gate and if I could hurry the old biddy along , we might make the last half of happy hour at Smokey's.

I broke Post Attention. My hip made gritty noises when I took the first step and the pain went up a notch. I must have made a real military sight; middle-aged man with a small pot-gut and half a limp, in Marine Full Dress Uniform, which had lost its razor crease about 30 minutes after I began the watch at the cemetery.

I stopped in front of her, halfway up the walk. She looked up at me with an old woman's squint.
"Ma'am, may I assist you in any way?"

She took long enough to answer. "Yes, son. Can you carry these flowers? I seem to be moving a tad slow these days."

"My pleasure Ma'am." Well, it wasn't too much of a lie.

She looked again. "Marine, where were you stationed?"

"Vietnam, Ma'am. Ground-pounder. '69 to '71."

She looked at me closer. "Wounded in action, I see. Well done, Marine. I'll be as quick as I can."

I lied a little bigger, "No hurry, Ma'am."

She smiled, and winked at me. "Son, I'm 85-years old and I can tell a lie from a long way off. Let's get this done. Might be the last time I can do this.
My name's Joanne Wieserman, and I've a few Marines I'd like to see one more time."

"Yes, Ma'am. At your service."

She headed for the World War I section, stopping at a stone. She picked one of the bunches out of my arm and laid it on top of the stone. She murmured
something I couldn't quite make out. The name on the marble was Donald S. Davidson, USMC, France 1918.

She turned away and made a straight line for the World War II section, stopping at one stone. I saw a tear slowly tracking its way down her cheek.

She put a bunch on a stone; the name was Stephen X. Davidson, USMC, 1943.

She went up the row a ways and laid another bunch on a stone, Stanley J. Wieserman USMC , 1944.

She paused for a second, "Two more, son, and we'll be done."
I almost didn't say anything, but, "Yes, Ma'am. Take your time."
She looked confused.
"Where's the Vietnam section, son? I seem to have lost my way."
I pointed with my chin. "That way, Ma'am."
"Oh!" she chuckled quietly. "Son, me and old age ain't too friendly."

She headed down the walk I'd pointed at. She stopped at a couple of stones before she found the ones she wanted. She placed a bunch on Larry Wieserman USMC, 1968, and the last on Darrel Wieserman USMC, 1970.

She stood there and murmured a few words I still couldn't make out. "OK, son, I'm finished. Get me back to my car and you can go home."
"Yes, Ma'am. If I may ask, were those your kinfolk ?"

She paused. "Yes, Donald Davidson was my father; Stephen was my uncle; Stanley was my husband; Larry and Darrel were our sons. All killed in action, all Marines."
She stopped, whether she had finished, or couldn't finish, I don't know. She made her way to her car, slowly, and painfully.

I waited for a polite distance to come between us and then double-timed it over to Kevin, waiting by the car.
"Get to the "Out"- gate quick. I have something I've got to do."

Kevin started to say something but saw the look I gave him. He broke the rules to get us there down the service road. We beat her. She hadn't made it around the rotunda yet.

"Kevin, stand to attention next to the gate post. Follow my lead." I humped it across the drive to the other post.

When the Cadillac came puttering around from the hedges and began the short straight traverse to the gate, I called in my best gunny's voice:

"TehenHut! ----------

Present Haaaarms!"

I have to hand it to Kevin, he never blinked an eye; full dress attention and a salute that would make his DI proud. She drove through that gate with two old worn-out soldiers giving her a send off she deserved, for service rendered to her country, and for knowing Duty, Honor and Sacrifice.

I am not sure, but I think I saw a salute returned from that Cadillac.
<![if !supportEmptyParas]> <![endif]>
Are YOU a TRUE AMERICAN?

You might be a TRUE AMERICAN if: It never occurred to you to be offended by the phrase, "One nation, under God."

You might be a TRUE AMERICAN if: You've never protested about seeing the 10 Commandments posted in public places.

You might be a TRUE AMERICAN if: You still say "Christmas" instead of "Winter Festival."

You might be a TRUE AMERICAN if: You bow your head when someone prays.

You might be a TRUE AMERICAN if: You stand and place your hand over your heart when they play the National Anthem.

You might be a TRUE AMERICAN if: You treat Viet Nam vets with great respect, and always have.

You might be a TRUE AMERICAN if: You've never burned an American flag.

You might be a TRUE AMERICAN if: You know what you believe and you aren't afraid to say so, no matter who is listening.

You might be a TRUE AMERICAN if: You respect your elders and expect your kids to do the same.

You might be a TRUE AMERICAN if: You'd give your last dollar to a friend.

 God Bless the U S A ! Amen
<![if !supportEmptyParas]> <![endif]>
<![if !supportEmptyParas]> <![endif]>
Check It Out - Great Holiday Recipes
<![if !supportEmptyParas]> <![endif]>
<![if !supportEmptyParas]> <![endif]>
<![if !supportEmptyParas]> <![endif]>
From the HAYS (Kansas) DAILY NEWS
by R. W. Yeager Norton, Ks.

Cheers on Corridor Three
by LTC Bob Bateman
10:30 hours (local EST), Friday, 11 May 2007: Third Corridor, Second Floor, The Pentagon:

It is 110 yards from the "E" ring to the "A" ring of the Pentagon. This section of the Pentagon is newly renovated; the floors shine, the hallway is broad, and the lighting is bright. At this instant the entire length of the corridor is packed with officers, a few sergeants and some civilians, all crammed tightly three and four deep against the walls.
There are thousands here. This hallway, more than any other, is the "Army" hallway. The G3 offices line one side, G2 the other, G8 is around the corner. All Army. Moderate conversations flow in a low buzz. Friends who may not have seen each other for a few weeks, or a few years, spot each other, cross the way and renew. Everyone shifts to ensure an open path remains down the center. The air conditioning system was not
designed for this press of bodies in this area. The temperature is rising already. Nobody cares.

10:36 hours (local EST):
The clapping starts at the E-Ring. That is the outermost of the five rings of the Pentagon and it is closest to the entrance to the building.  This clapping is low, sustained, hearty. It is an applause with a deep emotion behind it as it moves forward in a wave down the length of the hallway. A steady rolling wave of sound it is, moving at the pace of the soldier in the wheelchair who marks the forward edge with his presence.  He is the first. He is missing the greater part of one leg, and some of his wounds are still suppurating.

By his age I expect that he is a private, or perhaps a private first class. Captains, majors, lieutenant colonels and colonels meet his gaze and nod as they applaud, soldier to soldier. Three years ago when I described one of these events, those lining the hallways were somewhat different. The applause a little wilder, perhaps in private guilt for not having shared in the burden ... yet. Now almost everyone lining the hallway is, like the man in the wheelchair, also a combat veteran. This steadies the applause, but I think deepens the sentiment. We have all been there now. The soldier's chair is pushed by, I believe, a full colonel. Behind him, and stretching the length from E to A, come more of his peers, each private, corporal or sergeant assisted as need be by a field grade officer.

10:50 hours (local EST):

Twenty-four minutes of steady applause. My hands hurt, and I laugh to myself at how stupid that sounds in my own head. "My hands hurt."
Christ. Shut up and clap.

For twenty-four minutes, soldier after soldier has come down this hallway - 20, 25, 30. Fifty-three legs come with them, and perhaps only 52 hands or arms, but down this hall came 30 solid hearts. They pass down this corridor of officers and applause, and then meet for a private lunch, at which they are the guests of honor, hosted by the generals.

Some are wheeled along. Some insist upon getting out of their chairs, to march as best they can with their chin held up, down this hallway, through this most unique audience. Some are catching handshakes and smiling like a politician at a Fourth of July parade. More than a couple of them seem amazed and are smiling shyly. There are families with them as well: the 18-year-old war-bride pushing her 19-year-old husband's wheelchair and not quite understanding why her husband is so affected by this, the boy she grew up with, now a man, who had never shed a tear is crying; the older immigrant Latino parents who have, perhaps more than their wounded mid-20s son, an appreciation for the emotion given on their son's behalf. No man in that hallway, walking or clapping, is ashamed by the silent tears on more than a few cheeks. An Airborne Ranger wipes his eyes only to better see. A couple of the officers in this crowd have themselves been a part of this parade in the past. These are our men, broken in body they may be, but they are our brothers, and we welcome them home.

This parade has gone on, every single Friday, all year long, for more than four years.
~~~
Murphy's Lesser-Known Laws

1. Light travels faster than sound. This is why some people appear bright until you hear them speak.

2. He who laughs last, thinks slowest.

3. Those who live by the sword get shot by those who don't.

4. Nothing is foolproof to a sufficiently talented fool.

5. The 50-50-90 rule: Anytime you have a 50-50 chance of getting something right, there's a 90% probability you'll get it wrong.

6. The things that come to those who wait will be the things left by those who got there first.

7. Give a man a fish and he will eat for a day. Teach a man to fish and he'll sit in a boat all day, drinking beer.

8. The shin bone is a device for finding furniture in a dark room.

9. A fine is a tax for doing wrong. A tax is a fine for doing well.

10. When you go into court, you are putting yourself in the hands of 12 people who weren't smart enough to get out of jury duty.
<![if !supportEmptyParas]> <![endif]>
<![if !supportEmptyParas]> <![endif]>
<![if !supportEmptyParas]> <![endif]>
We need to show more sympathy for these people. They travel miles in the heat, they risk their lives crossing a border, they don't get paid enough wages, they do jobs that others won't do or are afraid to do, they live in crowded conditions among a people who speak a
different language, they rarely see their families, and they face adversity all day every day.

I'm not talking about illegal Mexicans, I'm talking about our troops.

Doesn't it seem strange that the Democrats are willing to lavish all kinds of social benefits on illegals, but don't support our troops and are now threatening to defund them?
~~~
~~~
 Mychal Massie – WND Commentary
~~~
Couldn't have said it better...

From: Dr. Hedges
Lowell E. Hedges is a retired associate professor of teacher education and a former superintendent of Elgin Local Schools

Several years ago I was supervising a beginning teacher in a city school system. One day during our end-of-the-day feedback conference, the young man gave a facial grimace and began to rub his back. I asked him if he had strained his back in the school lab. After a long period of silence, he sat down at his desk and explained that he had immigrated to the United States because of political problems in his native country. The discomfort in his back was caused by a bullet wound he had received while fighting the Communists who were trying to take over his country's government. He was then a member of the underground nationalist force.

Then he asked me a surprising question: "Dr. Hedges, do you know how to catch a wild hog?"
The question was completely out of context regarding the day's classroom and lab teaching. I replied, "I'm not sure what you are talking about. Tell me."
<![if !supportLineBreakNewLine]>
<![endif]>
Continued from Dr. Hedges:
"First," he said, "you find out where the wild hogs are roaming and feeding and then you put some corn out in the field. Soon they will come to eat the corn. You keep putting out the free corn. More wild hogs keep coming to eat the corn."

"So what?" I said. "That's normal for any animal."

He said, "After the hogs get used to your free corn, you put up a length of fence along one side of the feeding area. The hogs get used to it. You keep giving them the corn. Then you put up another section of fence at right angles to the first. You keep
giving them the corn. The hogs get used to the second fence. Then you put up another length of fence at right angles to the second section. You now have a U-shaped fenced area. The hogs get used to that section of the fence. You keep giving them free corn. Then you put another section of fence with a gate in it, making a closed area except for the gate. You keep giving them corn. Now, the hogs no longer are out in the fields, working to find their own food. They keep coming into the area to eat the free corn.
They get used to the fenced area with the open gate. Then, one day you slam shut the gate when the hogs are inside the fenced area. The wild hogs are caught - they are your prisoners."

I understood then that the wild hogs were really the people of his native country and that the free corn was the enticements that the Communists were giving to the people.

"That's correct," the young man said. "Now, the hogs will not get anything to eat unless you give them food. You are in control. They depend on you to feed them, or they will starve. They can't get out into the fields and forests anymore to find their own food. They have probably forgotten how, as it is. They are your servants, your prisoners. They must obey you. Or else they starve."

"The hogs," he said, "were so accustomed to having the free corn, that they ignored the building of the fences that would eventually trap them. When the gate slammed shut, it was too late for them to realize what they had been blind to. The free corn was enticing, so effortless to obtain, but eventually the cause of their loss of freedom. The fence had been built; the gate had been shut."

At this point in our conversation, the young teacher loudly exclaimed, "This is what I see happening in America today! People are being offered free corn by the government. People are being blind to the fences being built around them by the liberals - the
socialists - and that is what frightens me! Just like it was happening in my homeland. The American people do not learn from history. And history shows that socialism/communism does not work. Take note of Russia. Has socialism been the best thing that ever happened to that country? Absolutely not! But socialism is what the American people are being fed, and they don't realize it. All they can focus on is the 'free corn.' They want more and more of the free corn. And this free corn is being fed to us little by little, and soon the gate will slam shut. I am very frightened, and also amazed, that the American people don't see what is being fed us, and for what purpose."

With that said, the young man sat down at his desk and continued to rub his painful back. And I was silent in my chair. For I could visualize the supposedly "free corn" being fed to our nation's people and our growing addiction to the "free corn". And I could see the gate being slammed shut. We, the people of the United States of America, because of our ignorance of history, because of our addiction to the supposedly "free corn," could soon be prisoners of liberal socialism.

Wake up, America! The fences are being built! Don't you see what is happening to us?

In the agenda of Congress, there is much "free corn" being promised the American people. In our greed for this "free corn," will we ignore the incremental building of the fences and the inevitable shutting of the gate? As I ponder the building of the fences, I remember the old adage:
There is always free cheese in a mousetrap.
<![if !supportLineBreakNewLine]>
<![endif]>
I Am Offended!

Republican Sen. John McCain Sunday berated fellow lawmakers for "spending money like a drunken sailor"

As a former drunken sailor, I take offense at being compared to Congress!
~~~
You may have seen this before, if not I hope you'll enjoy pondering upon them....
<![if !supportLineBreakNewLine]>
<![endif]>
Can you cry under water?

How important does a person have to be before they are considered assassinated instead of just murdered?

Why do you have to "put your two cents in".. but it's only a "penny for your thoughts?" Where's that extra penny going to?

Once you're in heaven, do you get stuck wearing the clothes you were buried in for eternity?

Why does a round pizza come in a square box?

What disease did cured ham actually have?

How is it that we put man on the moon before we figured out it would be a good idea to put wheels on luggage?

Why is it that people say they "slept like a baby" when babies wake up like every two hours?

If a deaf person has to go to court, is it still called a hearing?

Why are you IN a movie, but you're ON TV?

Why do people pay to go up tall buildings and then put money in binoculars to look at things on the ground?

Why do doctors leave the room while you change? They're going to see you naked anyway.

Why is "bra" singular and "panties" plural?

Why do toasters always have a setting that burns the toast to a horrible crisp,
which no decent human being would eat?

If Jimmy cracks corn and no one cares, why is there a stupid song about him?

Can a hearse carrying a corpse drive in the carpool Lane?

If the professor on Gilligan's Island can make a radio out of a coconut, why can't he fix a hole in a boat?

Why does Goofy stand erect while Pluto remains on all fours? They're both dogs!

If Wiley E. Coyote had enough money to buy all that ACME stuff, why didn't he just buy dinner?

If corn oil is made from corn, and vegetable oil is made from vegetables, what is baby oil made from?

If electricity comes from electrons, does morality come from morons?

Does the Alphabet song and Twinkle, Twinkle Little Star have the same tune?

Why did you just try singing the two songs above?

Why do they call it an asteroid when it's outside the hemisphere, but call it a hemorrhoid when it's in your butt?

Did you ever notice that when you blow in a dog's face, he gets mad at you, but when you take him for a car ride he sticks his head out the window?
<![if !supportLineBreakNewLine]>
<![endif]>
GOD BLESS OUR MILITARY!! FREEDOM ISN'T FREE!

Must read article from Jason Whitlock  - WOW!
Also enjoy these truths:
A penny saved is a government oversight.

The real art of conversation is not only to say the right thing at the right time, but also to leave unsaid the wrong thing at the
tempting moment.

The older you get, the tougher it is to lose weight, because by then your body and your fat have gotten to be really good friends.

The easiest way to find something lost around the house is to buy a replacement.

He who hesitates is probably right.

Did you ever notice: The Roman Numerals for forty (40) are " XL."

If you think there is good in everybody, you haven't met everybody.

If you can smile when things go wrong,
you have someone in mind to blame.

The sole purpose of a child's middle name is
so he can tell when he's really in trouble.

There's always a lot to be thankful for if you take time to look for it. For example I am sitting here thinking how nice it is that wrinkles don't hurt.

Did you ever notice: When you put the 2 words
"The" and "IRS" together it spells "Theirs."

Birds of a feather flock together and crap on your car.
Would be great if we had more teachers like this!

Back in September of 2005, on the first day of school, Martha Cothren, a social studies school teacher at Robinson High School in Little Rock, did something not to be forgotten. On the first day of school, with permission of the school superintendent, the principal and the building supervisor, she took all of the desks out of the classroom. The kids came into first period, they walked in, there were no desks. They obviously looked around and said, "Ms . Cothren, where's our desk?"
And she said, "You can't have a desk until you tell me how you earn them."
They thought, "Well, maybe it's our grades."
"No," she said.
"Maybe it's our behavior."
And she told them, "No, it's not even your behavior."
And so they came and went in the first period, still no desks in the classroom. Second period, same thing. Third period. By early afternoon television news crews had gathered in Ms. Cothren's class to find out about this crazy teacher who had taken all the desks out of the classroom. The last period of the day, Martha Cothren gathered her class. They were at this time sitting on the floor around the sides of the room. And she says, "Throughout the day no one has really understood
how you earn the desks that sit in this classroom ordinarily." She said, "Now I'm going to tell you."
Martha Cothren went over to the door of her classroom and opened it, and as she did 27 U.S. veterans, wearing their uniforms, walked into that classroom, each one carrying a school desk. And they placed those school desks in rows, and then they stood along the wall. And by the time they had finished placing those desks, those kids for the first time I think perhaps in their lives understood how they earned those desks.
Martha said, "You don't have to earn those desks. These guys did it for you. They put them out there for you, but it's up to you to sit here responsibly to learn, to be good students and good citizens, because they paid a price for you to have that desk, and don't ever forget it."
Home
<![if !supportLineBreakNewLine]>
<![endif]>