<![if !vml]>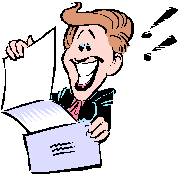 <![endif]>
Humor Page
Just For Fun
Humor 2007
Grandkids!
She was in the bathroom, putting on her makeup, under the watchful eyes of her young granddaughter as she'd done many times before.

After she applied her lipstick and started to leave, the little one said, "But Gramma, you forgot to kiss the toilet paper good-bye!"
 
*******************************************************************

My young grandson called the other day to wish me Happy Birthday. He asked me how old I was, and I told him, "62." He was quiet for a moment, and then he asked, "Did you start at 1?"
 *******************************************************************

After putting her grandchildren to bed, a grandmother changed into old slacks and a droopy blouse and proceeded to wash her hair.  As she heard the children getting more and more rambunctious, her patience grew thin.  Finally, she threw a towel around her head and stormed into their room, putting them back to bed with stern warnings. As she left the room, she heard the three-year-old say with a trembling voice, "Who was THAT?"

 *******************************************************************
 A grandmother was telling her little granddaughter what her own childhood was like: "We used to skate outside on a pond. I had a swing made from a tire; it hung from a tree in our front yard. We rode our pony. We picked wild raspberries in the woods."

The little girl was wide-eyed, taking this all in.  At last she said, "I sure wish I' d gotten to know you sooner!"

 *******************************************************************

My grandson was visiting one day when he asked, "Grandma, do you know how you and God are alike?"

I mentally polished my halo while I asked, "No, how are we alike?"

"You're both old," he replied.
 
 *******************************************************************
A little girl was diligently pounding away on her grandfather's word processor.
She told him she was writing a story.
 
"What's it about?" he asked.
 
"I don't know," she replied. "I can't read."

 *******************************************************************
I didn't know if my granddaughter had learned her colors yet, so I decided to test her. I would point out something and ask what color it was. She would tell me and was always correct. It was fun for me, so I continued.  At last she headed for the door, saying sadly, "Grandma, I think you should try to figure out some of these yourself!"
 
 *******************************************************************
When my grandson Billy and I entered our vacation cabin, we kept the lights off until we were inside to keep from attracting pesky insects.  Still, a few fireflies followed us in.
 
Noticing them before I did, Billy whispered, "It's no use, Grandpa. The mosquitoes are coming after us with flashlights."
 
 *******************************************************************
When my grandson asked me how old I was, I teasingly replied, "I'm not sure."
"Look in your underwear, Grandpa," he advised. "Mine says I'm four to six."

*******************************************************************
A second grader came home from school and said to her grandmother, "Grandma, guess what? We learned how to make babies today."
 
The grandmother, more than a little surprised, tried to keep her cool.
 
"That's interesting," she said, "how do you make babies?"
 
"It's simple," replied the girl. "You just change 'y' to 'i' and add 'es'."
 
*******************************************************************
Children's Logic: "Give me a sentence about a public servant," said a teacher.
The small boy wrote: "The fireman came down the ladder pregnant." The teacher took the lad aside to correct him.
 
"Don't you know what pregnant means?" she asked.
 
"Sure," said the young boy confidently. "It means carrying a child."
 
*******************************************************************
A nursery school teacher was delivering a station wagon full of kids home one day when a fire truck zoomed past.
 
Sitting in the front seat of the truck was a Dalmatian dog. The children started discussing the dog's duties.
 
"They use him to keep crowds back," said one child.
 
"No," said another, "he's just for good luck."
 
A third child brought the argument to a close.
 
"They use the dogs," she said firmly, "to find the fire hydrants."
 
<![if !supportEmptyParas]> <![endif]>
<![if !supportEmptyParas]> <![endif]>
In Pharmacology, all drugs have two names, a trade name and generic name. For example, the trade name of Tylenol also has a generic name of Acetaminophen.
Aleve is also called Naproxen. Amoxil is also called Amoxicillin and Advil is also called Ibuprofen.

The FDA has been looking for a generic name for Viagra. After careful consideration by a team of government experts, it recently announced that it has settled on the generic name of Mycoxafloppin.  Also considered were Mycoxafailin, Mydixadrupin, Mydixarizin, Dixafix, and of course, Ibepokin.
<![if !supportLineBreakNewLine]>
<![endif]>
Pfizer Corp announced today that Viagra will soon be available in liquid form, and will be marketed by Pepsi Cola as a power beverage suitable for use as a mixer. It will now be possible for a man to literally pour himself a stiff one. Obviously we can no longer call this a soft drink, and it gives new meaning to the names of "cocktails", "highballs" and just a good old-fashioned "stiff drink". Pepsi will market the new concoction by the name of MOUNT & DO.

Thought for the day: There is more money being spent on breast implants and Viagra today than on Alzheimer's research. This means that by 2040, there should be a large elderly population with perky boobs and huge erections and absolutely no recollection of what to do with them.
<![if !supportLineBreakNewLine]>
<![endif]>
<![if !supportEmptyParas]> <![endif]>
<![if !supportEmptyParas]> <![endif]>
Amy, a blonde Colorado girl from Denver marries a Texas rancher. One morning, on his way out to check on the cows, the rancher says to Amy, "The insemination man is coming over to impregnate one of our cows today. I drove a nail into the two-by-four just above the cow's stall in the barn.  You show him where the cow is when he gets here, okay?"

So the rancher leaves for the fields. After a while, the artificial insemination man arrives and knocks on the front door. Amy takes him down to the barn. They walk along the row of cows and when she sees the nail, she tells him, "This is the one right here."

Terribly impressed by what he seemed to think just might be another ditzy blonde, the man asks, "Tell me little lady, how did you know this is the cow to be bred?

"That's simple. By the nail over its stall," Amy explains very confidently.

Then the man asks, "What's the nail for?"

She turns to walk away, and with complete confidence, says, "I guess it's to hang your pants on."
<![if !supportEmptyParas]> <![endif]>
<![if !supportEmptyParas]> <![endif]>
This is an actual letter sent to a man named Ryan DeVries regarding a pond on his property. It was sent by the Pennsylvania Department of Environmental Quality, State of Pennsylvania. This guy's response is hilarious, but read The State's letter before you get to the response letter.

SUBJECT: DEQ File No.97-59-0023; T11N; R10W, Sec. 20; Lycoming County

Dear Mr. DeVries:

It has come to the attention of the Department of Environmental Quality that there has been recent unauthorized activity on the above referenced parcel of property. You have been certified as the legal landowner and/or contractor who did the following unauthorized activity:

Construction and maintenance of two wood debris dams across the outlet stream of Spring Pond.

A permit must be issued prior to the start of this type of activity. A review of the Department's files shows that no permits have been issued. Therefore, the Department has determined that this activity is in violation of Part 301, Inland Lakes and Streams, of the Natural Resource and Environmental Protection Act, Act 451 of the Public Acts of 1994, being sections 324.30101 to 324.30113 of the Pennsylvania Compiled Laws, annotated.

The Department has been informed that one or both of the dams partially failed during a recent rain event, causing debris and flooding at downstream locations. We find that dams of this nature are inherently hazardous and cannot be permitted. The Department therefore orders you to cease and desist all activities at this location, and to restore the stream to a free-flow condition by removing all wood and brush forming the dams from the stream channel. All restoration work shall be completed no later than January 31, 2007.

Please notify this office when the restoration has been completed so that a follow-up site inspection may be scheduled by our staff. Failure to comply with this request or any further unauthorized activity on the site may result in this case being referred for elevated enforcement action.

We anticipate and would appreciate your full cooperation in this matter. Please feel free to contact me at this office if you have any questions.


Sincerely,
David L. Price
District Representative and Water Management Division.


Here is the actual response sent back by Mr. DeVries:


Re: DEQ File No. 97-59-0023; T11N; R10W, Sec. 20; Lycoming County

Dear Mr. Price,

Your certified letter dated 12/17/06 has been handed to me to respond to. I am the legal landowner but not the Contractor at 2088 Dagget Lane, Trout Run, Pennsylvania.

A couple of beavers are in the (State unauthorized) process of constructing and maintaining two wood "debris" dams across the outlet stream of my Spring Pond. While I did not pay for, authorize, nor supervise their dam project, I think they would be highly offended that you call their skillful use of natures building materials "debris."

I would like to challenge your department to attempt to emulate their dam project any time and/or any place you choose. I believe I can safely state there is no way you could ever match their dam skills, their dam resourcefulness, their dam ingenuity, their dam persistence, their dam determination and/or their dam work ethic.

These are the beavers/contractors you are seeking. As to your request, I do not think the beavers are aware that they must first fill out a dam permit prior to the start of this type of dam activity.

My first dam question to you is:
(1) Are you trying to discriminate against my Spring Pond Beavers, or
(2) do you require all beavers throughout this State to conform to said dam request?

If you are not discriminating against these particular beavers, through the Freedom of Information Act, I request completed copies of all those other applicable beaver dam permits that have been issued.

(Perhaps we will see if there really is a dam violation of Part 301, Inland Lakes and Streams, of the Natural Resource and Environmental Protection Act, Act 451 of the Public Acts of 1994, being sections 324.30101 to 324.30113 of the Pennsylvania Compiled Laws, annotated.)

I have several concerns. My first concern is, aren't the beavers entitled to legal representation? The Spring Pond Beavers are financially destitute and are unable to pay for said representation -- so the State will have to provide them with a dam lawyer. The Department's dam concern that either one or both of the dams failed during a recent rain event, causing flooding, is proof that this is a natural occurrence, which the Department is required to protect. In other words, we should leave the Spring Pond Beavers alone rather than harassing them and calling them dam names.

If you want the stream "restored" to a dam free-flow condition please contact the beavers -- but if you are going to arrest them, they obviously did not pay any attention to your dam letter, they being unable to read English.

In my humble opinion, the Spring Pond Beavers have a right to build their unauthorized dams as long as the sky is blue, the grass is green and water flows downstream. They have more dam rights than I do to live and enjoy Spring Pond. If the Department of Natural Resources and Environmental Protection lives up to its name, it should protect the natural resources (Beavers) and the environment (Beavers' Dams).

So, as far as the beavers and I are concerned, this dam case can be referred for more elevated enforcement action right now. Why wait until 1/31/2007? The Spring Pond Beavers may be under the dam ice then and there will be no way for you or your dam staff to contact/harass them.

In conclusion, I would like to bring to your attention a real environmental quality, health problem in the area. It is the bears! Bears are actually defecating in our woods. I definitely believe you should be persecuting the defecating bears and leave the beavers alone. If you are going to investigate the beaver dam, watch your step! The bears are not careful where they dump!

Being unable to comply with your dam request, and being unable to contact you on your dam answering machine, I am sending this response to your dam office.

THANK YOU,

RYAN DEVRIES
& THE DAM BEAVERS
<![if !supportEmptyParas]> <![endif]>
<![if !supportEmptyParas]> <![endif]>
HOW TO INSTALL A HOME SECURITY SYSTEM IN THE SOUTH

1. Go to a second-hand store and buy a pair of men's used size 14-16 work boots.

2. Place them on your front porch, along with a copy of Guns & Ammo Magazine.

3. Put a few giant dog dishes next to the boots and magazines.

4. Leave a note on your door that reads:

Hey Bubba, Big Jim, Duke and Slim,
I went for more ammunition. Back in an hour. Don't mess with the pit bulls -- they attacked the mailman this morning and messed him up real bad. I don't think Killer took part in it but it was hard to tell from all the blood. Anyway, I locked all four of 'em in the house. Better wait outside.
Cooter
<![if !supportEmptyParas]> <![endif]>
Three men - a Canadian farmer, Osama bin Laden and a Texan are all walking together one day. They come across a lantern and a Genie pops out of it. 'I will give each of you one wish, which is three wishes in total,' says the Genie.

The Canadian says, 'I am a farmer and my son will also farm. I want the land to be forever fertile in Canada.'

POOOOFF! With the blink of the Genie's eye, the land in Canada was forever fertile for farming.

Osama bin Laden was amazed, so he said, 'I want a wall around Afghanistan, Palestine, Iraq and Iran so that no infidels, Americans or Canadians can come into our precious state.'

POOOFF! Again, with the blink of the Genie's eye, there was a huge wall around those countries.

The Texan says, 'I am very curious. Please tell me more about this wall.'

The Genie explains, 'Well, it's about 5 000 feet high, 500 feet thick and completely surrounds the country. Nothing can get in or out; it's virtually impenetrable.'

The Texan sits down, cracks a beer and smiles.  He says; 'Fill it with water.'
<![if !supportEmptyParas]> <![endif]>
<![if !supportEmptyParas]> <![endif]>
Here is some real thought provoking humor for you:  Suppose the president decided to chuck it all in answer to his critics?
<![if !supportEmptyParas]> <![endif]>
President Bush Resigns!  Author Unknown
<![if !supportEmptyParas]> <![endif]>
Normally, I start these things out by saying, "My fellow Americans."
Not doing it this time. If the polls are any indication, I don't know who more than half of you are anymore.
I do know something terrible has happened, and that you're really not fellow Americans any longer.
I'll cut right to the chase here: I quit. Now before anyone gets all in a lather about me quitting to avoid impeachment, or to avoid prosecution or something, let me assure you: There's been no breaking of laws or impeachable offenses in this office.
The reason I'm quitting is simple: I'm fed up with you people.
I'm fed up because you have no understanding of what's really going on in the world – or of what's going on in this once-great nation of ours. And the majority of you are too damn lazy to do your homework and figure it out.
Let's start local. You've been sold a bill of goods by politicians and the news media. Polls show that the majority of you think the economy is in the tank. And that's despite record numbers of homeowners, including record numbers of minority homeowners. And while we're mentioning m minorities, I'll point out that minority business ownership is at an all-time high. Our unemployment rate is as low as it ever was during the Clinton administration. I've mentioned all those things before, but it doesn't seem to have sunk in.
Despite the shock to our economy of 9/11, the stock market has rebounded to record levels, and more Americans than ever are participating in these markets. Meanwhile, all you can do is whine about gas prices, and most of you are too damn stupid to realize that gas prices are high because there's increased demand in other parts of the world, and because a small handful of noisy idiots are more worried about polar bears and beachfront property than your economic security.
We face real threats in the world. Don't give me this "blood for oil" thing. If I were trading blood for oil, I would've already seized Iraq's oil fields and let the rest of the country go to hell. And don't give me this "Bush Lied; People Died" crap either. If I were the liar you morons take me for, I could've easily had chemical weapons planted in Iraq so they could be "discovered." Instead, I owned up to the fact that the intelligence was faulty.
Let me remind you that the rest of the world thought Saddam had the goods, same as me. Let me also remind you that regime change in Iraq was official U.S. policy before I came into office. Some guy named Clinton established that policy. Bet you didn't know that, did you?
You idiots need to understand that we face a unique enemy. Back during the Cold War, there were two major competing political and economic models squaring off. We won that war, but we did so because fundamentally the Communists wanted to survive, just as we do. We were simply able to outspend and out-tech them.
That's not the case this time. The soldiers of our new enemy don't care if they survive. In fact, they want to die. That'd be fine, as long as they weren't also committed to taking as many of you with them as they can. But they are. They want to kill you, and the bastards are all over the globe.
You should be grateful they haven't gotten any more of us here in the United States since Sept. 11. But you're not. That's because you've got no idea how hard a small number of intelligence, military, law enforcement and homeland security people have worked to make sure of that. When this whole mess started, I warned you that this would be a long and difficult fight. I'm disappointed how many of you people think a long and difficult fight amounts to a single season of "Survivor."
Instead, you've grown impatient. You're incapable of seeing things through the long lens of history, the way our enemies do. You think that wars should last a few months, a few years, tops.
Making matters worse, you actively support those who help the enemy. Every time you buy the New York Times, every time you send a donation to a cut-and-run Democrat's political campaign, well, dang it, you might just as well FedEx a grenade launcher to a jihadist. It amounts to the same thing.
In this day and age, it's easy enough to find the truth. It's all over the Internet. It just isn't on the pages of the New York Times or on NBC News. But even if it were, I doubt you'd be any smarter. Most of you would rather watch "American Idol."
I could say more about your expectations that the government will always be there to bail you out, even if you're too stupid to leave a city that's below sea level and has a hurricane approaching.
I could say more about your insane belief that government, not your own wallet, is where the money comes from. But I've come to the conclusion that were I to do so, it would sail right over your heads.
So I quit. I'm going back to Crawford; I've got an energy-efficient house down there (Al Gore could only dream) and the capability to be fully self-sufficient. No one ever heard of Crawford before I got elected, and as soon as I'm done here pretty much no one will ever hear of it again. Maybe I'll be lucky enough to die of old age before the last pillars of America fall.
Oh, and by the way, Cheney's quitting, too. That means Pelosi is your new president. You asked for it. Watch what she does carefully, because I still have a glimmer of hope that there are just enough of you remaining who are smart enough to turn this thing around in 2008.
So that's it. God bless what's left of America. Some of you know what I mean. The rest of you, kiss off.
<![if !supportEmptyParas]> <![endif]>
A Japanese doctor says, "Medicine in my country is so advanced that we can take a kidney out of one man, put it in another, and have him out looking for work in six weeks."

A German doctor says, "That's nothing. We can take a lung out of one person, put it in another, and have him out looking for work in four weeks."

A British doctor says, "In my country medicine is so advanced that we can take half a heart out of one person, put it in another, and have both of them out looking for work in two weeks."

The American doctor, not to be outdone, interjected, "You guys are way behind. We are about to take a woman with no brains, send her to Washington where she will become President, and then half the country will be out looking for work."
Help Line ... more signs of outsourcing

I was feeling a bit depressed the other day, so I called the Help Hotline.
I was put through to a 'call center' in Pakistan.
I explained that I was feeling suicidal.
They were very excited at this news and wanted to know if I could drive a truck or fly an airplane....
Pee Test

Like a lot of folks in this state, I have a job. I work, they pay me. I pay my taxes and the government distributes my taxes as they see fit.

In order to get that paycheck. . . I am required to pass a random urine test, which I have no problem with.

What I do have a problem with is the distribution of my taxes to people who don't have to pass a urine test.

Shouldn't one have to pass a urine test to get a welfare check, because I have to pass one to earn it for them?

Please understand, I have no problem with helping people get back on their
feet. I do, on the other hand, have a problem with helping someone sit on their ass and smoke pot all day. You shouldn't be able to use government money to buy pot.

Could you imagine how much money the state would save if people had to pass a urine test to get a public assistance check?
Attending a wedding for the first time, a little girl whispered to her mother, 'Why is the bride dressed in white?' 'Because white is the color of happiness, and today is the happiest day of her life.' The child thought about this for a moment, then said, 'So why is the groom wearing black?'

~~~~~~~~~~~~

A little girl, dressed in her Sunday best, was running as fast as she could, trying not to be late for Bible class. As she ran she prayed, 'Dear Lord, please don't let me be late! Dear Lord, please don't let me be late!' While she was running and praying, she tripped on a curb and fell, getting her clothes dirty and tearing her dress. She got up, brushed herself off, and started running again! As she ran she once again began to pray, 'Dear Lord, please don't let me be late...But please don't shove me either!'

~~~~~~~~~~~~

Three boys are in the school yard bragging about their fathers. The first boy says, 'My Dad scribbles a few words on a piece of paper, he calls it a poem, they give him $50.' The second boy says, 'That's nothing. My Dad scribbles a few words on piece of paper, he calls it a song, they give him $100.' The third boy says, 'I got you both beat. My Dad scribbles a few words on a piece of paper, he calls it a sermon, and it takes eight people to collect all the money!'

~~~~~~~~~~~~

An elderly woman died last month. Having never married, she requested no male pallbearers. In her handwritten instructions for her memorial service, she wrote, 'They wouldn't take me out while I was alive, I don't want them to take me out when I'm dead.'

~~~~~~~~~~~~

A police recruit was asked during the exam, 'What would you do if you had to arrest your own mother?' He answered 'Call for backup.'

~~~~~~~~~~~

A Sunday School teacher asked her class why Joseph and Mary took Jesus with them to Jerusalem .. A small child replied: 'They couldn't get a baby-sitter.'

~~~~~~~~~~~~

A Sunday school teacher was discussing the Ten Commandments with her five and six year olds. After explaining the commandment to 'honor thy father and thy mother,' she asked 'Is there a commandment that teaches us how to treat our brothers and sisters?' Without missing a beat one little boy answered, 'Thou shall not kill.'

~~~~~~~~~~~~

At Sunday School they were teaching how God created everything, including human beings. Little Johnny seemed especially intent when they told him how Eve was created out of one of Adam's ribs. Later in the week his mother noticed him lying down as though he were ill, and she said, Johnny, what is the matter?' Little Johnny responded, 'I have pain in my side. I think I'm going to have a wife.'

~~~~~~~~~~~~

Two boys were walking home from Sunday school after hearing a strong preaching on the devil. One said to the other, 'What do you think about all this Satan stuff?' The other boy replied, 'Well, you know how Santa Claus turned out. It's probably just your Dad.'
<![if !supportEmptyParas]> <![endif]>
<![if !supportEmptyParas]> <![endif]>
BLONDE LOGIC

Two blondes living in Oklahoma were sitting on a bench talking, and one blonde says to the other, "Which do you think is farther away... Florida or the moon?"

The other blonde turns and says "Helloooooooooo, can you see Florida ?????"



CAR TROUBLE

A blonde pushes her BMW into a gas station. She tells the mechanic it died.

After he works on it for a few minutes, it is idling smoothly.

She says, "What's the story?"

He replies, "Just crap in the carburetor"

She asks, "How often do I have to do that?"



SPEEDING TICKET

A police officer stops a blonde for speeding and asks her very nicely if he could see her license.

She replied in a huff, "I wish you guys would get your act together. Just yesterday you take away my license and then today you expect me to show it to you!"



RIVER WALK

There's this blonde out for a walk. She comes to a river and sees another blonde on the opposite bank. "Yoo-hoo!" she shouts, "How can I get to the other side?"

The second blonde looks up the river then down the river and shouts back, "You ARE on the other side."



AT THE DOCTOR'S OFFICE

A gorgeous young redhead goes into the doctor's office and said that her body hurt wherever she touched it.

"Impossible!" says the doctor. "Show me."

The redhead took her finger, pushed on her left shoulder and screamed, then she pushed her elbow and screamed even more. She pushed her knee and screamed;

likewise she pushed her ankle and screamed. Everywhere she touched made her scream.

The doctor said, "You're not really a redhead, are you?

"Well, no" she said, "I'm actually a blonde."

"I thought so," the doctor said. "Your finger is broken."



KNITTING

A highway patrolman pulled alongside a speeding car on the freeway. Glancing at the car, he was astounded to see that the blonde behind the wheel was knitting!

Realizing that she was oblivious to his flashing lights and siren, the trooper cranked down his window, turned on his bullhorn and yelled, "PULL OVER!"

"NO!" the blonde yelled back, "IT'S A SCARF!"



BLONDE ON THE SUN

A Russian, an American, and a Blonde were talking one day. The Russian said, "We were the first in space!"

The American said, "We were the first on the moon!"

The Blonde said, "So what? We're going to be the first on the sun!"

The Russian and the American looked at each other and shook their heads. "You can't land on the sun, you idiot! You'll burn up!" said the Russian

To which the Blonde replied, "We're not stupid, you know. We're going at night!"



IN A VACUUM

A blonde was playing Trivial Pursuit one night. It was her turn. She rolled the dice and she landed on Science & Nature. Her question was, "If you are in a vacuum and someone calls your name, can you hear it?"

She thought for a time and then asked, "Is it on or off?"



FINALLY, THE BLONDE JOKE TO END ALL BLONDE JOKES!

A girl was visiting her blonde friend, who had acquired two new dogs, and asked her what their names were. The blonde responded by saying that one was named Rolex and one was named Timex. Her friend said, "Whoever heard of someone naming dogs like that?"
"HELLLOOOOOOO......," answered the blond. "They're watch dogs!"


<![if !supportLineBreakNewLine]>
<![endif]>
<![if !supportEmptyParas]> <![endif]>
<![if !supportEmptyParas]> <![endif]>
Liberals and Conservatives - The History

Humans originally existed as members of small bands of nomadic
hunters/gatherers. They lived on deer in the mountains during the
summer and would go to the coast and live on fish and lobster in the
winter.

The two most important events in all of history were the invention of
beer and the invention of the wheel. The wheel was invented to get man
to the beer. These were the foundation of modern civilization and
together were the catalyst for the splitting of humanity into two
distinct subgroups:

1. Liberals; and
2. Conservatives.

Once beer was discovered, it required grain and that was the beginning
of agriculture. Neither the glass bottle nor aluminum can were invented
yet, so while our early humans were sitting around waiting for them to
be invented, they just stayed close to the brewery. That's how
villages were formed.

Some men spent their days tracking and killing animals to B-B-Q at night
while they were drinking beer. This was the beginning of what is known
as the Conservative movement.

Other men who were weaker and less skilled at hunting learned to live
off the conservatives by showing up for the nightly B-B-Q's and doing
the sewing, fetching, and hair dressing. This was the beginning of the
Liberal movement.

Some of these liberal men eventually evolved into women. The rest
became known as girliemen.

Some noteworthy liberal achievements include the domestication of cats,
the invention of group therapy, group hugs, and the concept of
Democratic voting to decide how to divide the meat and beer that
conservatives provided.

Over the years conservatives came to be symbolized by the largest, most
powerful land animal on earth, the elephant. Liberals are symbolized by
the jackass.

Modern liberals like imported beer (with lime added), but most prefer
white wine or imported bottled water. They eat raw fish but like their
beef well done. Sushi, tofu, and French food are standard liberal
fare.

Another interesting evolutionary side note: most of their women have
higher testosterone levels than their men. Most social workers,
personal injury attorneys, journalists, dreamers in Hollywood and group
therapists are liberals. Liberals invented the designated hitter rule
because it wasn't fair to make the pitcher also bat.

Conservatives drink domestic beer. They eat red meat and still provide
for their women. Conservatives are big-game hunters, rodeo cowboys,
lumberjacks, construction workers, firemen, medical doctors, police
officers, corporate executives, athletes, Marines, and generally anyone
who works productively. Conservatives who own companies hire other
conservatives who want to work for a living.

Liberals produce little or nothing. They like to govern the producers
and decide what to do with the production. Liberals believe Europeans
are more enlightened than Americans. That is why most of the liberals
remained in Europe when conservatives were coming to America. They
crept in after the Wild West was tamed and created a business of trying
to get more for nothing.
<![if !supportEmptyParas]> <![endif]>
<![if !supportEmptyParas]> <![endif]>
A very self-important college freshman attending a recent football
 game, took it upon himself to explain to a senior citizen sitting
 next to him why it was impossible for the older generation to
 understand his generation.
 
 "You grew up in a different world, actually an almost primitive
 one," the student said, loud enough for many of those nearby to
hear. "The young people of today grew up with television, jet
 planes, space travel, man walking on the moon,
 our spaceships have visited Mars. We have nuclear energy, electric
 and hydrogen cars, computers with light-speed processing ....and,"
pausing to take another drink of beer.
 
 
 The Senior took advantage of the break in the student's litany and
 said, "You're right, son. We didn't have those things when we were
 young........so we "invented" them. Now, you arrogant little shit,
 what are you doing for the next generation?"
<![if !supportLineBreakNewLine]>
<![endif]>
<![if !supportEmptyParas]> <![endif]>
<![if !supportEmptyParas]> <![endif]>
Hillaryisms –
She had a childhood dream was to be an Olympic athlete. But she was not athletic enough. She said she wanted to be an astronaut, but at the time they didn't take women. She said she wanted to go into medicine, but hospitals made her woozy. Should she be telling people this story? I mean she's basically saying she wants to be president because she can't do anything else.' --- Jay Leno

'Well, the big story --- Hillary Clinton will be running for president in 2008. You know why I think she's running? I think she finally wants to see what it's like to sleep in the
president's bed.' --- Jay Leno

'Top Democrats have mixed feelings about Sen. Hillary Clinton running for president. Apparently, some Democrats don't like the idea, while others hate it.' --- Conan O'Brien

'In a fiery speech this weekend, Hillary Clinton wondered why President Bush can't find the tallest man in Afghanistan . Probably for the same reason she couldn't find the fattest intern under the desk.' --- Jay Leno

'Former President Bill Clinton said that if his wife, Hillary, is elected president, he will do whatever she wants. You know Bill Clinton --- when he makes a vow to Hillary, you can take that to the bank.' --- Jay Leno

'Did you know Bill and Hillary Clinton were born under the same sign? Know what sign? 'For Sale .' ' --- Jay Leno

'A student from the University of Washington has sold his soul on eBay for $400. He's a law student, so he probably doesn't need it, but still, that's not very much. Today, Hillary Clinton said, 'Hey, at least I got some furniture and a Senate seat for mine.' ' --- Jay Leno

'Hillary Clinton said today that she wants legislation to allow all ex-felons to vote. See, this way all the Clinton 's former business partners can vote for her in 2008.' --- Jay Leno

'Hillary Clinton's 506-page memoirs have come out. So much of her personality shines through, that in the end, you, too, will want to sleep with an intern.' --- Craig Kilborn

In Hillary Clinton's new book 'Living History,' Hillary details what it was like meeting Bill Clinton , falling in love with him, getting married, and living a passionate, wonderful life as husband and wife. Then on page two,the trouble starts.' --- Jay Leno

'In the book, she says when Bill told her he was having an affair, she said, 'I could hardly breathe, I was gulping for air.' No, I'm sorry, that's what Monica said.' --- David Letterman

'Hillary Clinton, our junior senator from New York, announced that she has no intentions of ever, ever running for office of the President of the United States. Her husband, Bill Clinton, is bitterly disappointed. He is crushed. There go his dreams of becoming a two-impeachment family.' --- David Letterman

'Last night, Senator Hillary Clinton hosted her first party in her new home in Washington People said it was a lot like the parties she used to host at the White House. In fact, even the furniture was the same.' --- Jay Leno

'Senator Hillary Clinton is attacking President Bush for breaking his campaign promise to cut carbon dioxide emissions, saying a promise made, a promise broken. And then out of habit, she demanded that Bush spend the night on the couch.' --- Craig Kilborn

'CNN found that Hillary Clinton is the most admired woman in America. Women admire her because she's strong and successful. Men admire her because she allows her husband to cheat and get away with it.' -- - Jay Leno

'Hillary Clinton is the junior senator from the great state of New York . When they swore her in, she used the Clinton family Bible the one with only seven commandments.' --- David Letterman
<![if !supportEmptyParas]> <![endif]>
<![if !supportEmptyParas]> <![endif]>
A little American Indian boy asked his father, the big chief and witch Doctor of the tribe, "Papa, why is it that we have long names, while The white men have shorter names like Bill, Tex, Sam...

His father replied, "Look, son, our names represent a symbol, a sign, or a poem for our culture not like the white men, who live all together and repeat their names from generation to generation. Also, it is part of our makeup that in spite of everything, we survive.

For example, your sister's name is Small Romantic Moon Over The Lake, because on the night she was born, there was a beautiful moon reflected in the lake.
Then there's your brother, Big White Horse of the Prairies, because he was born on a day that the big white horse who gallops over the prairies of the world appeared near our camp and is a symbol of our capacity to live and the life force of our people.

It's very simple and easy to understand.

Do you have any other questions, Little Broken Condom Made in China
<![if !supportEmptyParas]> <![endif]>
<![if !supportEmptyParas]> <![endif]>
A fleeing Taliban, desperate for water, was plodding through the Afghanistan desert when he saw something far off in the distance. Hoping to find water, he hurried toward the object, only to find a little old Jewish man at a small stand selling ties. The Taliban asked, "Do you have water?"
The Jewish man replied, "I have no water. Would you like to buy a tie? They are only $5."
The Taliban shouted, "Idiot! I do not need an overpriced tie. I need water! I should kill you, but I must find water first."
"OK," said the old Jewish man, "it does not matter that you do not want to buy a tie and that you hate me. I will show you that I am bigger than that. If you continue over that hill to the east for about two miles, you will find a lovely restaurant. It has all the ice cold water you need. Shalom."
Muttering, the Taliban staggered away over the hill. Several hours later he staggered back.
"Your ***** brother won't let me in without a tie."
<![if !supportEmptyParas]> <![endif]>
<![if !supportEmptyParas]> <![endif]>
<![if !supportEmptyParas]> <![endif]>
Recently, while going through an airport during one of his many trips, President Bush encountered a man with long gray hair and beard, wearing a white robe and sandals, holding a staff. President Bush went up to the man and said, "Has anyone told you that you look like Moses?" The man didn't answer. He just kept staring straight ahead. The president said, "Moses!" in a loud voice. The man just stared ahead, never acknowledging the president.
<![if !supportLineBreakNewLine]>
<![endif]>
The president pulled a Secret Service agent aside and, pointing to the robed man, asked him, "Am I crazy or does that man not look like Moses to you?  The Secret Service agent looked at the man and agreed.
<![if !supportLineBreakNewLine]>
<![endif]>
"Well," said the president, "every time I say his name, he ignores me and stares straight ahead, refusing to speak.. Watch!"
<![if !supportLineBreakNewLine]>
<![endif]>
Again the president yelled, "Moses!" and again the man ignored him.
<![if !supportLineBreakNewLine]>
<![endif]>
The Secret Service agent went up to the man in the white robe and whispered, "You look just like Moses. Are you Moses?"
<![if !supportLineBreakNewLine]>
<![endif]>
The man leaned over and whispered back, "Shhhh! Yes, I am Moses. The last time I talked to a bush, I spent 40 years wandering in the desert and ended up leading my people to the only spot in the entire Middle East with NO oil."
<![if !supportEmptyParas]> <![endif]>
<![if !supportEmptyParas]> <![endif]>
This sounds about right.
A priest was being honored at his retirement dinner after 25 years in the
parish. A leading local politician and member of the congregation was chosen
to make the presentation and give a little speech at the dinner. He was
delayed, so the priest decided to say his own few words while they waited.

"I got my first impression of the parish from the first confession I
heard here. I thought I had been assigned to a terrible place. The very
first person who entered my confessional told me he had stolen a television
set and, when questioned by the police, was able to lie his way out of it.
He had stolen money from his parents, embezzled from his employer, had an
affair with his boss's wife, taken illegal drugs, and gave VD to his sister.
I was appalled. But as the days went on I knew that my people were not all
like that and I had, indeed, come to a fine parish full of good and loving
people.".....

Just as the priest finished his talk, the politician arrived full of
apologies at being late. He immediately began to make the presentation and
gave his talk. "I'll never forget the first day our parish priest arrived,"
said the politician. "In fact, I had the honor of being the first person to
go to him for confession."


Moral: NEVER, NEVER, NEVER BE LATE
<![if !supportEmptyParas]> <![endif]>
SIGN IN A STORE WINDOW:
"WE WOULD RATHER DO BUSINESS WITH 1000
AL QAEDA TERRORISTS OR ILLEGAL ALIENS
THAN WITH ONE SINGLE US CITIZEN "

This sign was prominently displayed in the window of a business in Philadelphia .

You are probably outraged at the thought of such an inflammatory statement. But we pride ourselves on being a society which holds Freedom of Speech as perhaps our greatest liberty. And after all, it is just a sign.
You may ask what kind of business would dare post such a sign?


Answer: A Funeral Home
(Who said morticians had no sense of humor?)
We're about to enter the peak of the hurricane season. Any day now,
you're going to turn on the TV and see a weather person pointing to some
radar blob out in the Atlantic Ocean and making two basic meteorological
points.

(1) There is no need to panic.

(2) We could all be killed.

Yes, hurricane season is an exciting time to be in Florida._ If you're new
to the area, you're probably wondering what you need to do to prepare for
the possibility that we'll get hit by "the big one." Based on our
experiences, we recommend that you follow this simple three-step hurricane
preparedness plan:

_STEP 1:_ Buy enough food and bottled water to last your family for at
least three days.

_STEP 2:_ Put these supplies into your car.

_STEP 3:_ Drive to Nebraska and remain there until Halloween.
Unfortunately, statistics show that most people will not follow this
sensible plan. Most people will foolishly stay here in Florida.

We'll start with one of the most important hurricane preparedness items:

_HOMEOWNERS' INSURANCE:_ If you own a home, you must have hurricane
insurance. Fortunately, this insurance is cheap and easy to get, as long as
your home meets two basic requirements:

(1) It is reasonably well-built, and

(2) It is located in Nebraska.

Unfortunately, if your home is located in Florida, or any other area that
might actually be hit by a hurricane, most insurance companies would prefer
not to sell you hurricane insurance, because then they might be required to
pay YOU money, and that is certainly not why they got into the insurance
business in the first place. So you'll have to scrounge around for an
insurance company, which will charge you an annual premium roughly equal to
the replacement value of your house. At any moment, this company can drop
you like used dental floss. Since Hurricane George, I have had an estimated
27 different home-insurance companies. This week, I'm covered by the Bob and
Big Stan Insurance Company, under a policy which states that, in addition to
my premium, Bob and Big Stan are entitled, on demand, to my kidneys.

_SHUTTERS:_
Your house should have hurricane shutters on all the windows, all the
doors, and -- if it's a major hurricane -- all the toilets. There are
several types of shutters, with advantages and disadvantages:

_Plywood shutters: _The advantage is that, because you make them yourself,
they're cheap.

The disadvantage is that, because you make them yourself, they will fall
off.

_Sheet-metal shutters:_ The advantage is that these work well, once you get
them all up. The disadvantage is that once you get them all up, your hands
will be useless bleeding stumps, and it will be December.

_Roll-down shutters: _The advantages are that they're very easy to use, and
will definitely protect your house. The disadvantage is that you will
have to sell your house to pay for them.

_Hurricane-proof windows: _These are the newest wrinkle in hurricane
protection: They look like ordinary windows, but they can withstand
hurricane winds! You can be sure of this, because the salesman says so. He
lives in Nebraska.

_Hurricane Proofing your property:_ As the hurricane approaches, check your
yard for movable objects like barbecue grills, planters, patio furniture,
visiting relatives, etc... You should, as a precaution, throw these items
into your swimming pool (if you don't have a swimming pool, you should have
one built immediately). Otherwise, the hurricane winds will turn these
objects into deadly missiles.

_EVACUATION ROUTE:_

If you live in a low-lying area, you should have an evacuation route
planned out. (To determine whether you live in a low-lying area, look at
your driver's license; if it says "Florida," you live in a low-lying area).
The purpose of having an evacuation route is to avoid being trapped in your
home when a major storm hits. Instead, you will be trapped in a gigantic
traffic jam several miles from your home, along with two hundred thousand
other evacuees. So, as a bonus, you will not be lonely.

_HURRICANE SUPPLIES:_

If you don't evacuate, you will need a mess of supplies. Do not buy them
now! Florida tradition requires that you wait until the last possible
minute, then go to the supermarket and get into vicious fights with
strangers over who gets the last can of SPAM. In addition to food and
water, you will need the following supplies:

_23 flashlights._ At least $167 worth of batteries that turn out, when the
power goes off, to be the wrong size for the flashlights.

_Bleach. _(No, I don't know what the bleach is for. NOBODY knows what the
bleach is for, but it's traditional, so GET some!)

_55 gallon drum _of underarm deodorant.

_A big knife_ that you can strap to your leg. (This will be useless in a
hurricane, but it looks cool.)

_A large quantity of raw chicken, _to placate the alligators. (Ask anybody
who went through Andrew; after the hurricane, there WILL be irate
alligators.)

_$35,000 in cash or diamonds_ so that, after the hurricane passes, you can
buy a generator from a man with no discernible teeth.

_Of course these are just basic precautions. _As the hurricane draws near,
it is vitally important that you keep abreast of the situation by turning on
your television and watching TV reporters in rain slickers stand right next
to the ocean and tell you over and over how vitally important it is for
everybody to stay away from the ocean.

_Good luck, and remember:_ It's great living in Paradise.
<![if !supportLineBreakNewLine]>
<![endif]>
For everyone who has ever had an evaluation - just remember,
it could have been worse. These are actual quotes taken from
National government employee performance evaluations.

1. "Since my last report, this employee has reached rock-bottom and has
started to dig."

2. "I would not allow this employee to breed."

3. "This employee is really not so much of a has-been, but more of a
definite won't be."

4. "Works well when under constant supervision and cornered like a rat in
a trap."

5. "When he opens his mouth, it seems that it is only to change feet."

6. "This young lady has delusions of adequacy."

7. "He sets low personal standards and then consistently fails to achieve
them."

8. "This employee is depriving a village somewhere of an idiot."

9. "This employee should go far, and the sooner he starts the better."

10. "Got a full 6-pack, but lacks the plastic thingy to hold it all
together."

11. "A gross ignoramus - 144 times worse than an ordinary ignoramus."

12. "He doesn't have ulcers, but he's a carrier."

14. "I would like to go hunting with him sometime."

15. "He's been working with glue too much."

16. "He would argue with a signpost."

17. "He brings a lot of joy whenever he leaves the room."

18. "When his IQ reaches 50, he should sell."

19. "If you see two people talking and one looks bored, he's the other
one."

20. "A photographic memory but with the lens cover glued on."

21. "A prime candidate for natural de-selection."

22. "Donated his brain to science before he was done using it."

23. "Gates are down, the lights are flashing, but the train isn't coming."

24. "He's got two brains cells, one is lost and the other is out looking
for it."

25. "If he were any more stupid, he'd have to be watered twice a week."

26. "If you give him a penny for his thoughts, you'd get change."

27. "If you stand close enough to him, you can hear the ocean."

28. "It's hard to believe he beat out 1,000,000 other sperm."

29. "One neuron short of a synapse."

30. "Some drink from the fountain of knowledge; he only gargled."

31. "Takes him 2 hours to watch 60-minutes."

32. "The wheel is turning, but the hamster is dead.
<![if !supportEmptyParas]> <![endif]>
<![if !supportEmptyParas]> <![endif]>
A motorcycle officer stops a man for running a red light. The guy is a real jerk and comes running back to the motor officer. The violator demands to know why he is being harassed by the Gestapo! So the officer calmly tells him of the red light violation. The "Motorist" instantly goes on a tirade, questioning the officer's ancestry, sexual orientation, etc., in rather explicit terms. The officer, being a professional, takes it all in stride, figuring "battleship mouth and rowboat ass".

The tirade goes on without the cop saying anything. When he gets done with writing the citation he puts an "AH" in the lower right corner of the narrative portion of the citation. He then hands it to the "Violator" for his signature.

The guy signs the cite angrily, tearing the paper, and when presented his copy points to the "AH" and demands to know what it stands for. The officer then removes his mirrored sunglasses, gets in the middle of the guy's face and said, "That's so when we go to court, I'll remember you're an asshole!"

Three months later they are in court. The "Violator" has such a bad record he is about to lose his license and has hired an attorney to represent him.
On the stand the officer testifies to seeing the man run the red light.

Under cross-examination, the defense attorney asks, "Officer, is this a reasonable facsimile of the citation you issued my client?"

Officer responds, "Yes sir, this is the defendant's copy, his signature and mine, same number at the top."
Attorney: "Officer, is there any particular marking or notation on this citation you don't normally make?"
Officer: "Yes sir, in the lower right corner of the narrative there is an 'AH', underlined."

Attorney: "What does the AH stand for, officer?"
Officer: "Aggressive and Hostile, Sir."

Attorney: "Aggressive and hostile?"

Officer: "Yes, Sir?"

Attorney: "Officer, are you sure it doesn't stand for Asshole?"

Officer: "Well, Sir, you know your client better than I do!"
Two NYC detectives are sitting down for a break in their soon-to-be opened sting location... as yet, the store isn't ready -- only a few shelves are set up.
One says to the other, "I bet any minute now some yokel is going to walk by, put his face to the window and ask what we're selling."

No sooner are the words out of his mouth when, sure enough, a curious fellow walks to the window, has a peek, and in a Southern drawl asks, "What're y'all sellin' here?"

One of the men replies, "Oh! We're selling assholes here."

Without skipping a beat, the southern fellow says, "Well, I see y'all're doing real good, thar's only two left!"
HOW TO START EACH DAY WITH A POSITIVE OUTLOOK
<![if !supportLineBreakNewLine]>
<![endif]>
1. Open a new file folder in your computer.
2. Name it "Hillary Rodham Clinton"
3. Send it to the trash.
4. Click "Empty the trash."
5. Your PC will ask you, "Do you really want to get rid of Hillary Rodham Clinton?"
6. Firmly Click "Yes."
7. Feel better.

PS: Next week you can do Nancy Pelosi.
You deserve to feel GOOD!
Pastor entered his donkey in a race and it won. The pastor was so pleased with the donkey that he entered him in another race and he won again.

The local paper read:
PASTOR'S ASS OUT FRONT.

The Bishop was so upset with this kind of publicity that he ordered the pastor not to
enter the donkey in any more races.
The next day the local paper headline read:

BISHOP SCRATCHES THE PASTOR'S ASS.

This was too much for the Bishop, so he ordered the pastor to get rid of the donkey.
The pastor decided to give it to a nun in a nearby convent.
The local paper, hearing of the news, posted the following headline:

NUN HAS THE BEST ASS IN TOWN.

The Bishop fainted.
He informed the nun that she would have to get rid of the donkey so she sold it to a farmer for $10.
The next day the headlines read:

NUN SELLS ASS FOR $10.

This was too much for the Bishop, so he ordered the nun to buy back the donkey and lead it to the high plains where it could run free.
The next day the headlines read:

NUN ANNOUNCES HER ASS IS WILD AND FREE.

Alas .. the Bishop was buried the next day.

MORAL OF THE STORY???

Being concerned about public opinion can bring you much grief and misery and even shorten your life. So, be yourself and enjoy life.

(Or more simply stated - Stop worrying about everyone else's ass and you'll live longer.)
One Sunday morning, the pastor noticed little Alex standing in the foyer of the church staring up at a large plaque. It was covered with names with small American flags mounted on either side of it.
The seven-year-old had been staring at the plaque for some time, so the pastor walked up, stood beside the little boy and said quietly, "Good morning, Alex."
"Good morning, Pastor," he replied, still focused on the plaque. "Pastor, what is this?" he asked.
The pastor said, "Well, son, it's a memorial to all the young men and women who died in the service."
Soberly, they just stood together, staring at the large plaque.
Finally, little Alex's voice, barely audible and trembling with fear, asked, "Which service? The 8:30 or the 10:45?"
Where to Live After Retirement

You can live in Phoenix, Arizona where.....

1. You are willing to park 3 blocks away because you found shade.
2. You've experienced condensation on your butt from the hot water in
the toilet bowl.
3. You can drive for 4 hours in one direction and never leave town.
4. You have over 100 recipes for Mexican food.
5. You know that " dry heat" is comparable to what hits you in the face when you open your oven door.
6. The 4 seasons are: tolerable, hot, really hot, and ARE YOU KIDDING ME??!!
THREE THINGS TO THINK ABOUT:
<![if !supportLineBreakNewLine]>
<![endif]>
THE COWS

THE CONSTITUTION

THE TEN COMMANDMENTS

ON COWS:
Is it just me, or does anyone else find it amazing that our government
can track a cow born in Canada almost three years ago, right to the
stall where she sleeps in the state of Washington? And, they tracked
her calves to their stalls. But they are unable to locate 11 million
illegal aliens wandering around our country. Maybe we should give
them all a cow.
<![if !supportLineBreakNewLine]>
<![endif]>
ON THE CONSTITUTION:
They keep talking about drafting a Constitution for Iraq, why don't we
just give them ours? It was written by a lot of really smart guys,
it's worked for over 200 years and we're not using it anymore.
<![if !supportLineBreakNewLine]>
<![endif]>
ON THE TEN COMMANDMENTS:
The real reason that we can't have the Ten Commandments in a
courthouse........ You cannot post "Thou Shalt Not Steal," "Thou Shalt
Not Commit Adultery", and "Thou Shall Not Lie" in a building full of
lawyers, judges and politicians -- it creates a hostile work environment.
The Best Definition of Political Correctness I Have Ever Seen
Political Correctness is a doctrine fostered by a delusional, illogical, bureaucratic minority, and rabidly promoted by an unscrupulous mainstream media, which holds forth the proposition that it is entirely possible to pick up a turd by the clean end.
You Old Folks might remember the original version of these

It was fun being a baby boomer... until now. Some of the artists of the 60's are revising their hits with new lyrics, to accommodate aging baby boomers.

They include:

Herman's Hermits--- Mrs.. Brown, You've Got a Lovely Walker.

Ringo Starr--- I Get By With a Little Help From Depends.

The Bee Gees--- How Can You Mend a Broken Hip.

Bobby Darin--- Splish, Splash, I Was Havin' a Flash.

Roberta Flack--- The First Time Ever I Forgot Your Face.

Johnny Nash--- I Can't See Clearly Now.

Paul Simon--- Fifty Ways to Lose Your Liver

The Commodores--- Once, Twice, Three Times to the Bathroom.

Marvin Gaye--- Heard It Through the Grape Nuts.

Procol Harem--- A Whiter Shade of Hair.

Leo Sayer--- You Make Me Feel Like Napping.

The Temptations--- Papa's Got a Kidney Stone.

Abba--- Denture Queen.

Tony Orlando--- Knock 3 Times On The Ceiling If You Hear Me Fall.

Helen Reddy--- I Am Woman, Hear Me Snore.

Leslie Gore--- It's My Procedure, and I'll Cry If I Want To.

And my favorite:

Willie Nelson--- On the Commode Again!
NEW WORDS FOR 2007

Essential vocabulary additions for the workplace and elsewhere!

-- BLAMESTORMING
Sitting around in a group, discussing why a deadline was
missed or a project failed, and who was responsible.

-- SEAGULL MANAGER
A manager, who flies in, makes a lot of noise, craps on
everything, and then leaves.

-- SALMON DAY
The experience of spending an entire day swimming upstream
only to get screwed and die in the end.

-- MOUSE POTATO
The on-line, wired generation's answer to the couch potato.

-- SITCOMs
Single Income, Two Children, Oppressive Mortgage. What
Yuppies get into when they have children and one of them
stops working to stay home with the kids.

-- SWIPEOUT
An ATM or credit card that has been rendered useless
because magnetic strip is worn away from extensive use.

-- IRRITAINMENT: Entertainment and media spectacles
that are annoying but you find yourself unable to stop
watching them..

-- 404
Someone who's clueless. From the World Wide Web error
message "404 Not Found," meaning that the requested
site could not be located.

-- GENERICA
Features of the American landscape that are exactly the
same no matter where one is, such as fast food joints,
strip malls, and subdivisions.

-- OHNOSECOND
That minuscule fraction of time in which you realize
that you've just made a BIG mistake. Like after hitting
Send on an email by mistake.

-- WOOFS
Well-Off Older Folks.
Californians
~~~~~~~~~~~~~~~~~~~~
So as not to be outdone by all the redneck, hillbilly, and Texan jokes,
Somebody had to come up with this.
You know you're from California if:

1. Your coworker has 8 body piercings and none are visible.

2. You make over $300,000 and still can't afford a house.

3. You take a bus and are shocked at two people carrying on a conversation in English.

4. Your child's 3rd-grade teacher has purple hair, a nose ring, and is named Flower.

5. You can't remember . . Is pot illegal?

6. You've been to a baby shower that has two mothers and a sperm donor.

7. You have a very strong opinion about where your coffee beans are grown,
And you can taste the difference between Sumatran and Ethiopian.

8. You can't remember . . . Is pot illegal?

9. A really great parking space can totally move you to tears.

10. Gas costs $1.00 per gallon more than anywhere else in the U.S.

11. Unlike back home, the guy at 8:30 am at Starbucks wearing a baseball cap
And sunglasses who looks like George Clooney really IS George Clooney.

12. Your car insurance costs as much as your house payment.

13. You can't remember . . .is pot illegal?

14. It's barely sprinkling rain and there's a report on every news station: "STORM WATCH."

15. You pass an elementary school playground and the children are all busy
With their cells or pagers.

16. It's barely sprinkling rain outside, so you leave for work an hour early to avoid
All the weather-related accidents.

17. HEY!!!! Is pot illegal????

18. Both you AND your dog have therapists, psychics, personal trainers and cosmetic surgeons.

19. The Terminator is your governor.

20. If you drive illegally, they take your driver's license.
If you're here illegally, they want to give you one
by Dave Barry, Nationally Syndicated Columnist
Never, under any circumstances, take a sleeping pill and a laxative
on the same night.

2. If you had to identify, in one word, the reason why the human race
has not achieved, and never will achieve, its full potential, that word
would be "meetings."

3. There is a very fine line between "hobby" and "mental illness."

4. People who want to share their religious views with you almost never
want you to share yours with them.

5. You should not confuse your career with your life.

6. Nobody cares if you can't dance well. Just get up and dance.

7. Never lick a steak knife.

8. The most destructive force in the universe is gossip.

9. You will never find anybody who can give you a clear and compelling
reason why we observe daylight savings time.

10. You should never say anything to a woman that even remotely suggests
that you think she's pregnant unless you can see an actual baby emerging
from her at that moment.

11. There comes a time when you should stop expecting other people to
make a big deal about your birthday. That time is age eleven.

12. The one thing that unites all human beings, regardless of age,
gender, religion, economic status or ethnic background, is that, deep
down inside, we ALL believe that we are above average drivers.

13. A person, who is nice to you, but rude to a waiter, is not a nice
person. (This is very important. Pay attention. It never fails.)

14. Your friends love you anyway.

15. Never be afraid to try something new. Remember that a lone amateur
built the Ark. A large group of professionals built the Titanic.
Dearest friends,

I am writing to you to ask for your help in shedding light on a perplexing situation I find myself contemplating.

I have selected you as a group to aid me because you have known me for a long time and I value your opinion.

Your religious experiences are varied and that is important to the problem I am faced with.

Over the years, we have all observed the seemingly random factors that affect all of our lives, sometimes without apparent rhyme or reason.

We have seen some marriages dissolve over nothing and others grow stronger under adverse conditions.

We have seen fate play a role in who survives critical illnesses and who succumbs to them.

We have all seen good people suffer great misfortunes while some people of low character thrive.

In our lifetime, we have seen Churches and Religious institutions all around the world become revised, televised, energized and even scandalized.

We are all well aware that a higher power has control of nearly all things.

Personally, I have stood in the doorway of a 7/11 in Los Angeles amid a shootout between the police and a gunman and walked away unscathed.

On a golf course, I saw a lightning bolt strike a man dead while those of us nearby where untouched.

We all watched as Hurricane Katrina ravaged some areas of the coast and left other nearby homes standing intact.

The enormity of these random and seemingly unfair applications of good or bad fortune is at the core of my dilemma.

I have studied sacred writings of all major religions searching for an answer, and now I pose the question to you.

I cannot fathom that the highest power in this universe could take Anna Nicole Smith from us and leave Hillary behind.
Joe Smith started the day early having set his alarm clock (MADE IN JAPAN) for 6am. While his coffeepot (MADE IN CHINA ) was perking, he shaved with his electric razor (MADE IN HONG KONG ). He put on a dress shirt ( MADE IN SRI LANKA ), designer jeans ( MADE IN! SINGAPORE ) and tennis shoes (MADE IN KOREA ). After cooking his breakfast in his new electric skillet (MADE IN INDIA, he sat down with his calculator ( MADE IN MEXICO ) to see how much he could spend today. After setting his watch (MADE IN TAIWAN ) to the radio (MADE IN INDIA ) he got in his car ( MADE IN GERMANY ) filled it with GAS from Saudi Arabia and continued his search for a good paying AMERICAN JOB . At the end of yet another discouraging and fruitless day checking his Computer (Made In Malaysia ), Joe decided to relax for a while. He put on his sandals (MADE IN BRAZIL ) pou red himself a glass of wine ( MADE IN FRANCE.! France!! ) and turned on his TV (MADE IN INDONESIA ), and then wondered why he can't find a good paying job in AMERICA.....
REGARDLESS OF YOUR POLITICAL AFFILIATION, THE SPIN PUT ON THIS STORY IS GOOD, very good!
Judy, a professional genealogical researcher, discovered that Hillary Clinton's great-great uncle, Remus Rodham, a fellow lacking in moral character, was
hanged for horse stealing and train robbery in Montana in 1889. The only known photograph of Remus shows him standing on the gallows. On the back of the picture is this inscription: "Remus Rodham; horse thief, sent to Montana Territorial Prison 1885, escaped 1887, and robbed the Montana Flyer six times. Caught by Pinkerton detectives, convicted and hanged in 1889."
Judy e-mailed Hillary Clinton for comments. Hillary's staff of professional image adjusters cropped Remus' picture, scanned it, enlarged the image, and edited it
with image processing software so that all that's seen is a head shot. The accompanying biographical sketch is as follows:
"Remus Rodham was a famous cowboy in the Montana Territory. His business empire grew to include the acquisition of valuable equestrian assets and intimate
dealings with the Montana railroad. Beginning in 1883, he devoted several years of his life to service at a government facility, finally taking leave to resume his dealings with the Railroad. In 1887, he was a key player in a vital investigation run by the renowned Pinkerton Detective Agency. In 1889, Remus passed away
during an important civic function held in his honor when the platform upon which he was standing collapsed."
Mammograms
Many women are afraid of their first mammogram, but there is no need to worry. By taking a few minutes each day for a week preceding the exam and doing the following exercises, you will be totally prepared for the test and best of all, you can do these simple exercises right in and around your home.

EXERCISE ONE:

Open your refrigerator door and insert one breast in door. Shut the door as hard as possible and lean on the door for good measure.

Hold that position for five seconds. Repeat again in case the first time wasn't effective enough.

EXERCISE TWO:

Visit your garage at 3AM when the temperature of the cement floor is just perfect. Take off all your clothes and lie comfortably on the floor with one breast wedged under the rear tire of the car. Ask a friend to slowly back the car up until your breast is sufficiently flattened and chilled. Turn over and repeat with the other breast.

EXERCISE THREE:

Freeze two metal bookends overnight. Strip to the waist. Invite a stranger into the room. Press the bookends against one of your breasts.

Smash the bookends together as hard as you can. Set up an appointment with the stranger to meet next year and do it again.

YOU ARE TOTALLY PREPARED!
A redneck was stopped by a game warden in East Texas recently with two ice chests full of fish. He was leaving a cove well-known for its fishing. The game warden asked the man, "Do you have a license to catch those fish?"
"Naw, sir", replied the redneck. "I ain't got none of them there licenses. You must understand, these here are my pet fish."
"Pet fish?"
"Yeah. Every night, I take these here fish down to the lake and let 'em swim 'round for awhile. Then, when I whistle, they jump right back into these here ice chests and I take 'em home.
"That's a bunch of hooey! Fish can't do that."
The redneck looked at the warden for a moment and then said, "It's the truth Mr. Government Man. I'll show ya. It really works."
"O. K.", said the warden. "I've got to see this!"
The redneck poured the fish into the lake and stood and waited.  After several minutes, the warden says, "Well?"
"Well, what?", says the redneck.
The warden says, "When are you going to call them back?"
"Call who back?"
"The FISH", replied the warden!
"What fish?", replied the redneck.
<![if !supportLineBreakNewLine]>
<![endif]>
Moral of the story:
We may not be as smart as some city slickers, but we ain't as dumb as some government employees.
LITTLE DAVIE
A new teacher was trying to make use of her psychology courses. She started her class by saying, "Everyone who thinks they're stupid, stand up!" After a few seconds, Little Davie stood up. The teacher said, "Do you think you're stupid, Little Davie ?"
"No, ma'am, but I hate to see you standing there all by yourself!"

**************

Little Davie watched, fascinated, as his mother smoothed cold cream on her face.
"Why do you do that, mommy?" he asked.
"To make myself beautiful," said his mother, who then began removing the cream with a tissue.
"What's the matter?" asked Little Davie. "Giving up?"

***************

A Sunday School teacher of pre- schoolers was concerned that his students might be a little confused about Jesus Christ because of the Christmas season emphasis on His birth. He wanted to make sure they understood that the birth of Jesus occurred a long time ago, that He grew up, etc. So he asked his class, "Where is Jesus today?"
Steven raised his hand and said, "He's in heaven."
Mary was called on and answered, "He's in my heart."
Little Davie waving his hand furiously, blurted out, "I know! I know! He's in our bathroom!"
The teacher was completely at a loss for a few very long seconds. Finally, he gathered his wits and asked Little Davie how he knew this. Little Davie said, "Well... every morning, my father gets up, bangs on the bathroom door, and yells, "Jesus Christ, are you still in there?!"

****************

The math teacher saw that little Davie wasn't paying attention in class. She called on him and said, " Davie! What are 2 and 4 and 28 and 44?"
Little Davie quickly replied, "NBC, CBS, HBO and the Cartoon Network!"

***************

Little Davies's kindergarten class was on a field trip to their local police station where they saw pictures tacked to a bulletin board of the 10 most wanted criminals.
One of the youngsters pointed to a picture and asked if it really was the photo of a wanted person.
"Yes," said the policeman.
"The detectives want very badly to capture him."
Little Davie asked, "Why didn't you keep him when you took his picture?"

***************

Little Davie attended a horse auction with his father. He watched as his father moved from horse to horse, running his hands up and down the horse's legs, rump, and chest. After a few minutes, Davie asked, "Dad, why are you doing that?"
His father replied, "Because when I'm buying horses, I have to make sure that they are healthy and in good shape before I buy."
Davie, looking worried, said, "Dad, I think the UPS guy wants to buy Mom.
Why God Created Children
To those of us who have children in our lives, whether they are our own, grandchildren, nieces, nephews, or students...
here is something to make you chuckle.

Whenever your children are out of control, you can take comfort from the thought that even God's omnipotence did not extend to His own children.

After creating heaven and earth, God created Adam and Eve.

And the first thing he said was "DON'T !"
"Don't what?" Adam replied.
"Don't eat the forbidden fruit." God said.
"Forbidden fruit ? We have forbidden fruit? Hey Eve…we have forbidden fruit!"
"No Way!"

"Yes way!"
"Do NOT eat the fruit!" said God.
"Why?"
"Because I am your Father and I said so!" God replied, wondering why He hadn't stopped creation after making the elephants.

A few minutes later, God saw His children having an apple break and He was ticked!

"Didn't I tell you not to eat the fruit?" God asked.
"Uh huh," Adam replied.
"Then why did you?" said the Father.

"I don't know," said Eve.
"She started it!" Adam said.
"Did not!"
"Did too!"
"DID NOT!"
Having had it with the two of them, God's punishment was that Adam and Eve should have children of their own.

Thus the pattern was set and it has never changed.
California Biker

A biker was riding along a California beach when suddenly the sky clouded above his head and, in a booming voice, the Lord said, "Because you have tried to be faithful to me in all ways, I will grant you one wish."

The biker pulled over and said, "Build a bridge to Hawaii so I can ride over anytime I want."

The Lord said, "Your request is materialistic, think of the enormous challenges for that kind of undertaking. The supports required to reach the bottom of the Pacific! The concrete and steel it would take! It will nearly exhaust several natural resources. I can do it, but it is hard for me to justify your desire for worldly things. Take a little more time and think of something that would honor and glorify me."

The biker thought about it for a long time. Finally he said, "Lord, I wish that I could understand my wife. I want to know how she feels inside, what she's thinking when she gives me the silent treatment, why she cries, what she means when she says nothing's wrong, and how I can make a woman truly happy."

The Lord replied, "You want two lanes or four on that bridge?"
A man was driving through west Texas one spring evening. The road was deserted and he had not seen a soul for what seemed like hours.
Suddenly his car started to cough and splutter and the engine slowly died away, leaving him sitting on the side of the road in total silence.
He popped the hood and looked to see if there was anything that he could do to get it going again. Unfortunately, he had a limited knowledge
of cars, so all he could do was look at the engine, feeling despondent.
As he stood looking at the gradually fading light of his flashlight, he cursed that he had not put in new batteries, like he had promised himself.

Suddenly, through the inky shadows, came a deep voice, "It's your fuel pump."
The man raised up quickly, striking his head on the underside of the hood. "Who said that?" he demanded.

There were two horses standing in the fenced field alongside the road and the man was amazed when the nearest of the two horses repeated,
"It's your fuel pump. Tap it with your flashlight, and try it again."
<![if !supportLineBreakNewLine]>
<![endif]>
Confused, the man tapped the fuel pump with his flashlight, turned the key and sure enough, the engine roared to life. He muttered a short
thanks to the horse and screeched away.

When he reached the next town, he ran into the local bar. "Gimme a large whiskey, please!" he said.

A rancher sitting at the bar looked at the man's ashen face and asked, "What's wrong, man? You look like you've seen a ghost"

"It's unbelievable," the man said and recalled the whole tale to the rancher.

The rancher took a sip of his beer and looked thoughtful." A horse, you say? Was it by any chance a white horse?"

The man replied to the affirmative. "Yes, it was! Am I crazy?"
"No, you ain't crazy. In fact, you're lucky," said the rancher, "because that black horse is a big liar and doesn't know sh*t about cars."