<![if !vml]>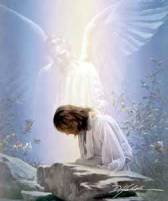 <![endif]>
<![if !supportEmptyParas]> <![endif]>
EASTER MEDITATIONS

Easter Special
Contribution comes via Josh Duncan
<![if !supportEmptyParas]> <![endif]>
"The rescue of drowning men is ... a duty worth dying for, but not worth living for. It seems to me that all political duties (among which I include military duties) are of this kind. A man may have to die for our country: but no man must, in any exclusive sense, live for his country. He who surrenders himself without reservation to the temporal claims of a nation, or a party, or a class is rendering to Caesar that which, of all things, most emphatically belongs to God: himself." --C.S. Lewis

"You and I know and do not believe that life is so dear and peace so sweet as to be purchased at the price of chains and slavery. If nothing is worth dying for, when did this begin...? ...Should Moses have told the children of Israel to live in slavery under the pharaohs? Should Christ have refused the cross? Should the patriots of Concord Bridge have thrown down their guns and refused to fire the shot heard round the world? The martyrs of history were not fools, and our honored dead who gave their lives to stop the advance of the Nazis didn't die in vain!" --Ronald Reagan


EASTER 2003
THE FALLEN WARRIOR
Mark Alexander

This Easter weekend 2003 we commemorate in daily succession Good Friday, Patriots Day, and Easter. This is fitting, with thousands of our warrior countrymen arrayed on battlefields in harm's way, not far from the Holy Land site of the first Easter's events, but also because the liberty that infuses our country is properly understood only in the midst of life and death. Our American liberties, truth be told, have always been honored best in the vicinity of Easter.

Scholars variously attribute the name "Easter" to derivation from Eostra (a Scandinavian goddess of dawn or spring) or Ostern (a Teutonic fertility goddess), both pagan figures honored at festivals celebrating the vernal equinox. Eostra is one of many similar names of Euro-Mediterranean pagan goddesses, with the form Ishtar most often associated with the region around the Euphrates River in Mesopotamia. Traditions associated with these festivals include the Easter rabbit, a symbol of fertility, and Easter eggs, painted with the bright colors of spring, signifying growth and new life. The Christian holiday builds on the traditions of the Jewish festival of Passover, or Pesach (the derivation of Pascha, another name for Easter), celebrating the deliverance of the Israelites from bondage in Egypt.

Pope Victor I (c. 189 - 198) standardized Easter to a Sunday holiday, and in 325 the Council of Nicaea set Easter's date in relation to the paschal moon. The Gregorian calendar correction of 1582 placed Easter as the first Sunday after the full moon following the vernal equinox, falling between March 22 and April 25.

We Christians memorialize the crucifixion of Jesus Christ each Good Friday, and His resurrection on Easter morning. And this Good Friday, April 18th, marks the 228th anniversary of Paul Revere's ride to warn his fellow patriots that British soldiers were on the way to seize the firearms that defended the colonials' freedom. The day after, Patriots Day, saw the colonials' failed skirmish with the Redcoats at Lexington, followed by their success in beating back the British at Concord. A total of 57 colonists lost their lives in those battles.

Our Founding Fathers to some extent were Christians, and most were steeped in a political philosophy rooted in the Christian view of human nature. Yet controversy sometimes arises over the Founders' willingness to take up arms in defense of their liberties. Jesus Christ crucified, in references to Passover, is likened to the sacrificial lamb: "He was oppressed and He was afflicted, yet he opened not His mouth; He was led as a lamb to the slaughter, and as a sheep before its shearers is silent, He opened not His mouth" (Isaiah 53:7); and "...[Y]ou were not redeemed with corruptible things, like silver or gold, from your aimless conduct received by tradition from your fathers, but with the precious blood of Christ, as of a lamb without blemish and without spot" (1 Peter 1:18-19).

In one sense, Jesus being put to death on the Cross was the greatest injustice ever. Interviewing Jesus to ascertain criminal guilt, the Roman governor, Pontius Pilate, turned from asking, "What is truth?" to say, "I find no crime in this man" (Luke 23:4; RSV). Upon learning that Jesus was a Galilean and therefore under Herod's jurisdiction as king of Israel, Pilate transferred the case. However, also finding no fault in Jesus, Herod sent Him back and Pilate then stated, "Behold, nothing deserving death has been done by him."

This gentle Jesus, fully innocent of any crime, went to His death without a fight. Thus, the self-congratulatory "peace" activists often claim Jesus as one of their pacifist number, and declaim against those who war for liberty's sake. Representatives from liberal Christian denominations are prominent among opponents of our current war in Iraq. But are they correct?

Jesus was certainly not averse to martial imagery, saying of His teachings and His kingdom, "Do not think that I came to bring peace on earth. I did not come to bring peace but a sword" (Matthew 10:34).

And the Roman centurion who sought Jesus to heal a servant sensed a kindred command authority: "Lord, I am not worthy that You should come under my roof. But only speak a word, and my servant will be healed. For I also am a man under authority, having soldiers under me. And I say to this one, 'Go,' and he goes; and to another, 'Come,' and he comes; and to my servant, 'Do this,' and he does it" (Matthew 8: 8-9).

Jesus replied, "Assuredly, I say to you, I have not found such great faith, not even in Israel. ...Go your way; and as you have believed, so let it be done for you" (Matthew 8:10, 13). Jesus never admonished the soldier for his profession, nor did He command the centurion to forsake it.

Jesus had traveled with His followers to Jerusalem just prior to the days of that first Easter. When their gathering in Passover observance was done, Jesus instructed the disciples, "...[A]nd he who has no sword, let him sell his garment and buy one" (Luke 22: 36). Their Master knew the difficult events that lay ahead, and he was providing for His apostles' self-defensive protection while He would be apart from them. He clearly intended that they defend themselves with lethal arms.

The care Jesus showed His disciples in this was the care of a commander -- and the love He expressed comrades at arms know: "Greater love has no one than this, than to lay down one's life for his friends. You are my friends if you do whatever I command you" (John 15:13-14).

So, the Lamb sacrificed at Easter was simultaneously the Good Shepherd. As Jesus explained: "I am the good shepherd; and I know My sheep, and am known by My own. As the Father knows Me, even so I know the Father; and I lay down My life for the sheep. And other sheep I have which are not of this fold; them also I must bring, and they will hear My voice; and there will be one flock and one shepherd; Therefore My Father loves Me, because I lay down My life that I may take it again. No one takes it from Me, but I lay it down of Myself. I have power to lay it down, and I have power to take it again. This command I have received from My Father" (John 10:14-18).

The Resurrection is the central fact that distinguishes Christianity from all other faiths. Only Christianity claims that its founder was more than a representative for God, but proved He was God Himself. Only God could raise Himself from the dead, and only God could have standing to ransom us from our sin-indebtedness, through a substitutionary sacrifice. With the cry of Jesus from the cross, "It is finished," our redemption was complete. Our Risen Lord returned, resurrected, to prove that His sacrifice was not in vain.

But the other essential message of Easter is the invaluable worth of every human life, however broken and sin-riddled. The sacrifice of Christ on the cross was the fusion of perfect love and perfect justice, a battle to vanquish evil forever, in this sense: Because we owe God complete obedience, we have no means to make restitution for our sins. Doing what we ought to do in any instance merely zeroes our balance for that accounting entry; we have no coin or currency that will repay the negative sum of our accumulated sins. And so, only God Himself could rectify that debt on our behalf, in a sacrificial act that is simultaneously purely loving and purely just. We are, each of us, so valuable to Him that only a personal rescue mission would do.

In a parable, Jesus asked, "What man of you, having a hundred sheep, if he loses one of them, does not leave the ninety-nine in the wilderness, and go after the one which is lost until he finds it? And when he has found it, he lays it on his shoulders, rejoicing. And when he comes home, he calls together his friends and neighbors, saying to them, 'Rejoice with me, for I have found my sheep which was lost'!" (Luke 15:4-6).

Is not this parable of rescuing the single lamb reminiscent of the operation to retrieve Pfc. Jessica Lynch from her captors in Iraq?

Lt. Col. Oliver North, USMC (Ret.), has been "embedded" as a war correspondent with the 5th Marine Regimental Combat Team, and he described an incident from two weeks ago: "A number of the Marines gathered around to hear the latest news and listen to the press conference from CENTCOM that would shortly take place. When it was announced that Lynch had been rescued, the Marines cheered. Before returning to work, it was a brief moment to share in the happiness that a lost comrade was now found. ... Army Rangers -- working with Navy SEALs, supported by Air Force air cover and aided by the diversion created by the Marines -- made Lynch's rescue possible. Those who were not directly involved took great pride in a job well done by their comrades in arms. ... The rescue of Lynch is a story from which the critics can learn a lesson. It is a story about the value of life and how the world's most powerful military employs its extensive resources and risks its most elite forces to save and rescue a single soldier -- because it views every life as precious. Because U.S. forces place such a premium on human life, they are going to great lengths to avoid civilian casualties and, in some cases, have put themselves in danger to save innocent Iraqi civilians. The care with which U.S. forces are prosecuting this war stands in stark contrast to the illegal and immoral tactics employed by Saddam Hussein's brutal regime. Iraqi men are conscripted into Saddam's army while their wives and children are held at gunpoint. Civilians are used as human shields."

And so, in our conflict with Jihadistan, on the Iraqi war front and elsewhere, we weigh lives dedicated to rescue against lives squandered to commit murder. This illustrates the source of the Jihadis' hostility toward us -- their hatred for those Founding principles still guiding the lives of Americans. As Thomas Jefferson put it, "The God who gave us life, gave us liberty at the same time; the hand of force may destroy, but cannot disjoin them."

But some of our rescuers have fallen in battle, though we prayed for their safe return. Has our Commander any explanation for why some prayers are answered "Yes," others, "No"?

When Jesus prayed in the Garden of Gethsemane on the eve of His Crucifixion, He pleaded, "O My Father, if it is possible, let this cup pass from Me; nevertheless, not as I will, but as You will." And He received the most resounding "No" that ever reverberated through eternity -- until that was silenced by the "Yes" of Resurrection morn.

The hope of our noble national experiment in liberty, defended so honorably 228 years past, and defended still honorably today, is based in the belief that we are valuable as moral beings created in the image of God, and thus as worthy of sacrifice as we are also called to sacrifice. We have only to follow the greatest fallen warrior, the victorious Risen Lord.


Lex et Libertas -- Semper Fidelis! Mark Alexander, Publisher, for the editors and staff.
(Please pray, every day, for our Patriot Armed Forces standing in harm's way, and their families waiting for their safe return.
<![if !supportEmptyParas]> <![endif]>
<![if !supportEmptyParas]> <![endif]>
Home    Rant Page    Feedback Welcome!
<![if !supportEmptyParas]> <![endif]>
<![if !supportEmptyParas]> <![endif]>